Sign Up for FORCE Newsletters
This page provides important information and resources for members of the healthcare or research community who focus on hereditary cancers.
The resources and information on this page may be helpful for professionals who focus on care, supportive services or research for people affected by hereditary cancers.
Subscribe to Our Healthcare Provider Updates

Our quarterly healthcare provider updates keep you up to date on the latest information on hereditary cancer and FORCE initiatives and programs you can share with your patients.
Order or Print Brochures in English and Spanish
FREE On-Demand CEU Webinar for Genetic Counselors: Media Coverage of Cancer and Its Impact on Patients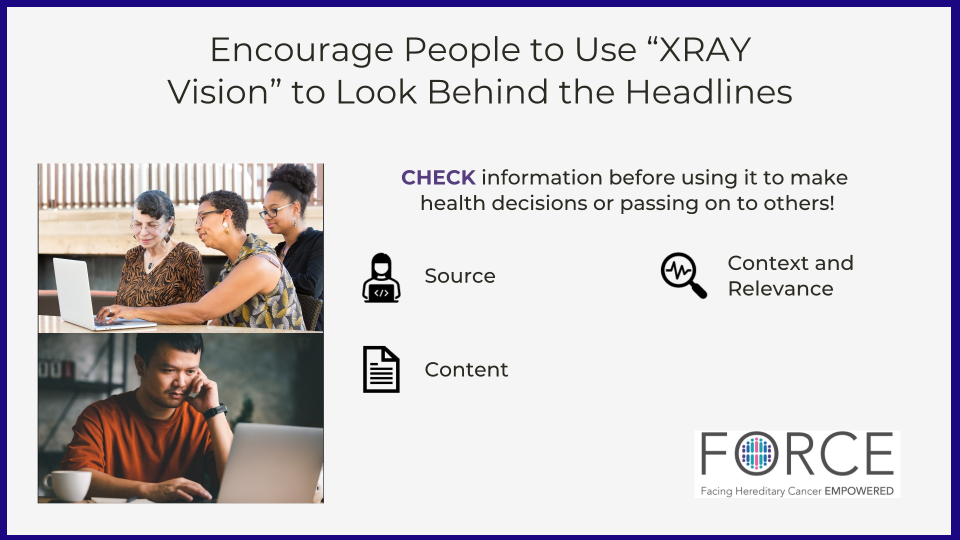 This CEU opportunity is offered free for genetic counselors. The webinar demonstrates how the media distorts cancer research, explains the impact this has on patients and provides resources for genetic counselors to help increase their patients' digital health literacy.
Help Your Patients Know their Legal Rights
Help Your Patients Find Support

Caregivers
LGBTQIA
Men
Meetings in American Sign Language
Meetings in Spanish
People of Color
Previvors
Young Previvors
Survivors
Young Survivors