Get notified of page updates
Update: Cancer disparities: Colorectal cancer in African Americans
Printer Friendly Page
Read the Original Article
Contents
UPDATE AT A GLANCE
What is this update about?
This report is about disparities in colorectal cancer rates, related deaths, and cancer screening in African Americans, as well as factors that may contribute to the disease in this population.
Why is this update important?
Colorectal cancer (CRC) is the third most common cancer diagnosed in African American adults. About 20,000 new cases were diagnosed in this population in 2019.
Rates for colorectal cancer diagnosis and death among African Americans declined over the past decade. Still, these rates are higher than rates among people of other races or ethnicities. The AACR updated the status of colorectal cancer in African Americans and disparities of the disease compared with other racial or ethnic groups. The update highlighted risk factors, screening, rates of diagnosis, treatment and deaths related to colorectal cancer among African Americans.
Update findings
The AACR Cancer Disparities Progress Report 2020 included the most recent research of colorectal cancer involving African Americans. The following topics and research findings were included in the report.
Screening of colorectal cancer in African Americans
Almost 20 percent of the disparity in colorectal cancer mortality rate between African Americans and white Americans is attributed to lower rates of screening among African Americans.
African Americans aged 50 and older are most likely to undergo screening for colorectal cancer of any non-white racial or ethnic group.
Factors that keep African Americans from being screened include:

Lack of awareness about colorectal cancer
Being unaware of the benefits of screening
Fear of a colonoscopy, fear of pain and financial concerns
Lack of insurance and access to care, and
Not receiving a health care provider's recommendation to have screening

African Americans have a high prevalence of cancer on the right side of the colon, which includes the cecum, ascending colon and proximal transverse colon. These organs cannot be reached by flexible sigmoidoscopy screenings but can be reached by colonoscopy. (See the variety of colorectal cancer screening tests in Guidelines.)
Among African Americans with an identified gene alteration in genes linke to colorectal cancer risk, more are variants of uncertain significance are detected (where it is not clear if the mutation will increase disease risk or not) than among whites. This may reflect lack of focus or followup research on these genetic mutations.
Rates of colorectal cancer in African Americans
Approximately 20,000 new diagnoses of colorectal cancer occur annually in African Americans adults aged 18 and older.
African American men are 26 percent more likely to be diagnosed than African American women.
Rates of colorectal cancer decreased by roughly 3 percent per year in African Americans from 2005 to 2016.
Disparities between African Americans and white Americans
The overall rate of colorectal cancer is nearly 20 percent higher in African Americans.
The incidence of colorectal cancer before age 50 is twice as high in African Americans. The recent deaths of Chadwick Boseman at age 43 and Natalie Desselle-Reid at age of 53 serve as tragic examples of the disproportionate impact of early-onset CRC among the African American community.
Some early case of CRC may be due to hereditary forms of CRC including mutations in genes. On average, the rate of mutations (which increases risk of colorectal cancer) in African Americans is similar to white Americans. However, mutations may be more frequent among those with particular ancestries (e.g., people from Zimbabwe).
African Americans are more than four times likely to be diagnosed with proximal (right-sided) colon cancer, which is more aggressive than left-sided colon cancer.
Disparities between African Americans and all other racial and ethnic groups
Compared with all racial/ethnic groups, African Americans are more likely to receive an initial diagnosis of colorectal cancer when the disease is more advanced and harder to treat.
Treatment disparities in African Americans compared with non-Hispanic white Americans
African Americans are less likely to be recommended the right care for the type and of their cancer. As a result, they are less likely to receive surgical treatments, radiation and chemotherapy, which may greatly benefit their health and survival.
African Americans are less likely to participate in clinical trials for cancer treatment that may include access to new and beneficial therapies.
The following barriers are more likely to prevent African Americans from receiving colorectal cancer treatment:

Lack of health insurance coverage
Cost of services
Transportation difficulties
Lack of knowledge about colorectal cancer
Deaths due to colorectal cancer in African Americans
African Americans are most likely to die from colorectal cancer compared to individuals of any other race or ethnicity.
Each year an estimated 2,300 African American adults will die from colorectal cancer.
Only 60 percent of African Americans with colorectal cancer will live at least five years after diagnosis, compared with 66 percent of their white counterparts and 68 percent of their Asian American or Pacific Islander counterparts.
Factors that increase colorectal cancer risk for African Americans and contribute to
Smoking

Although African Americans and white Americans have similar rates of smoking, African Americans are three times more likely to smoke menthol cigarettes. According to the , menthol, which is used to mask the harsh taste of tobacco, likely poses a greater public health risk than nonmenthol cigarettes.
African American adults and children are two times more likely to be exposed to secondhand smoke than any racial or ethnic group.

Weight

African American adults (75 percent) are more likely to be overweight or obese than non-Hispanic white Americans (70 percent).

Diet

Although the quality of the African American diet has improved, research shows that they report a lower intake of whole grains, fruits, and vegetables than any other racial or ethnic group.
Physical Activity

African Americans (35 percent) are more likely to report no leisure-time physical activity than non-Hispanic white Americans.
Social and Economic Factors

Currently, 21 percent of African Americans live below the federal poverty level, compared with 8 percent for non-Hispanic white Americans. The incidence of colorectal cancer is 35 percent higher among African American men living in the poorest US counties than those living in the most affluent counties.
African Americans are twice as likely as white Americans to be uninsured. Individuals who lack health insurance have a higher risk of poor outcomes from cancer compared with those who are insured.
Systemic racial discrimination has been shown to contribute to poor physical and mental health among minorities and has been linked to increased cancer risk among African Americans.
Environmental Factors

African Americans and Hispanic Americans are more likely than any other race or ethnicity to be exposed to higher levels of pesticides and other household chemicals that have been linked to the development of colorectal cancer.
African Americans are more likely than non-Hispanic white Americans to be exposed to higher levels of outdoor air pollution, which is a known cancer-causing agent.
Context
Cancer disparities based on race and ethnicity are the results of many factors. Some disparities are due to factors that can be modified, such as smoking, while others may be due to the long history of racism in our society. This has resulted in unfavorable outcomes for African Americans and other historically marginalized racial and ethnic groups. These unfavorable outcomes include high poverty rates, lack of access to healthy foods and racial bias within our healthcare system—all of which can result in worse health and treatment outcomes.
What does this mean for me?
If you are African American, be aware that your risk of colorectal cancer may be higher than other people's risk. Ask your doctor about factors that affect your risk and whether making any lifestyle changes or other steps can lower your risk. You may want to ask your doctor what your risk is given your personal or family history and what screenings are recommended. Under the Affordable Care Act, insurance companies are required to pay for colorectal cancer screening—in many cases with no out-of-pocket expenses—for people between the ages of 50 and 75.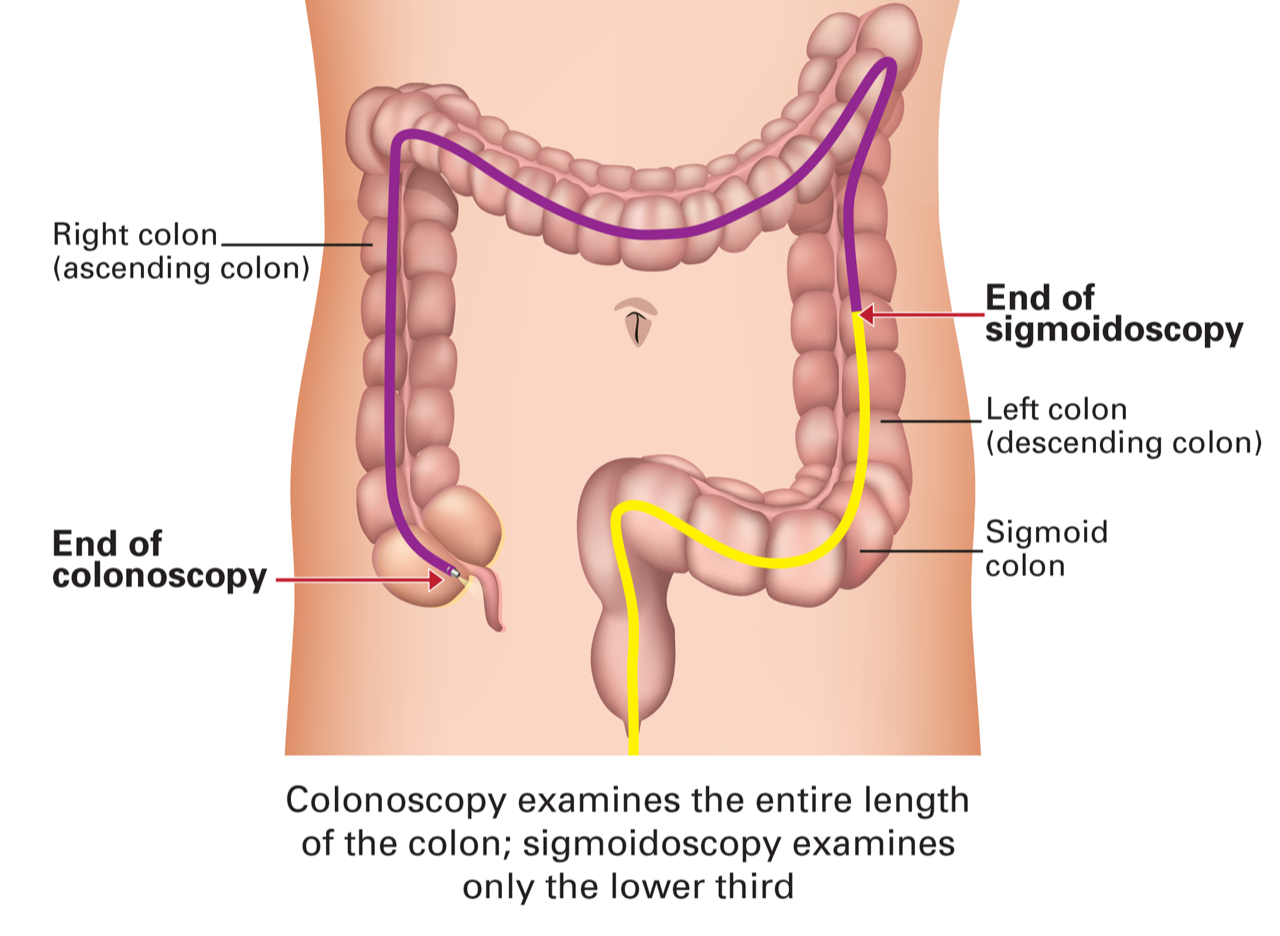 Importantly, of all the screenings available, colonoscopy can prevent many cases of colorectal cancer by finding and removing abnormalities before they can become cancer. Although sigmoidoscopy can also find and remove , this procedure uses a shorter scope that doesn't examine the entire colon. It misses the more aggressive cancers that may develop in the right colon (first part of the colon). Speak with your doctor to decide which screening test is best for you.
Aspirin has also been shown to lower the risk for colorectal cancer, as well as heart disease. FORCE reviewed this in a recent XRAY review linked here. Ask your doctor if you might benefit from daily low-dose aspirin to lower your risk for both diseases.
If you have been diagnosed with cancer, it's important to make sure that you are offered guideline-recommended care given your and type of cancer. Obtain a copy of your medical records and get a second opinion on your diagnosis and treatment plan.
Share your thoughts on this XRAY article by taking our brief survey.
posted 4/27/21

References
American Cancer Association of Cancer Research, AACR Cancer Disparities Progress Report 2020.
Siegel R, Miller K, Goding Sauer A, et al. Colorectal cancer statistics, 2020. CA Cancer J Clin. 2020; 70(3):145-164. March 5, 2020. doi:10.3322/caac.21601
Disclosure
FORCE receives funding from industry sponsors, including companies that manufacture cancer drugs, tests and devices. All XRAYS articles are written independently of any sponsor and are reviewed by members of our Scientific Advisory Board prior to publication to assure scientific integrity.
This article is relevant for:
African Americans concerned about colorectal cancer
This article is also relevant for:
people newly diagnosed with cancer
people with a family history of cancer
healthy people with average cancer risk
people with prostate cancer
Be part of XRAY: