by Felicia Johnson
Breast cancer has overwhelmed my maternal family for over 30 years, affecting 11 women. My family carries the BRCA1 mutation. I was unaware of its implications until my genetic counseling and subsequent testing. I was diagnosed with HER2+, de novo metastatic breast cancer.
Now I have a new tool in my information kit: an organization named FORCE (Facing Our Risk of Cancer Empowered). The resources and support I received from FORCE helped me understand the gravity of being a BRCA1 carrier and what it means to my child. FORCE helped me break the silence of speaking about hereditary cancers to my family, friends and community and helped me explain things to Previvors who carry the gene mutation.
Through a project called Encouraging Family Conversations About Hereditary Breast and Ovarian Cancer - YouTube, coordinated by the Centers for Disease Control and Prevention, StoryCenter.org and the National Association of Chronic Disease Directors (NACDD), I have had the opportunity to create this video. My story is one of 12 that are part of this project. I believe that sharing my fears and breaking the silence will aid others in their hereditary cancer journey.
Telling my story lets others know that they are not alone. And FORCE gives practical, up-to-date information to help families. I have become proactive in bringing awareness about heredity and hereditary cancers because of FORCE. Now, I can explain the importance of genetic counseling and testing to others.
Thank you, FORCE, for empowering me.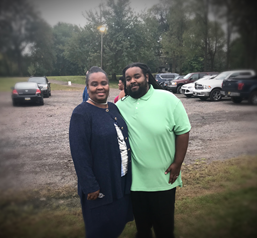 Felicia Johnson is a Patient Advocate in the cancer community. Her experience as a breast cancer patient inspired her to elevate the needs and the voices of other patients. Felicia attended the National Breast Cancer Coalition's Project LEAD, Breast Cancer Scientific-Training Program, and is a graduate of the FORCE Research Advocate Training Program through the Volunteer FORCE Academy. Felicia provides FORCE Peer-to-Peer support for cancer patients. Her passion is to bring information to the toolbox to help families that are affected by hereditary cancer.