by Lisa Rezende, PhD and Julie Huynh, MS
Today we celebrate the publication of our 100th XRAYS review. It's amazing to think how the program we developed over the past three years has grown to serve over 70,000 people affected by breast cancer. We knew the need was there. We saw how catchy headlines like "BRCA Gene Mutations Also Linked with Salivary Gland Cancer" or " 'Angelina Jolie Gene' May Be Linked to Alzheimer's, Researchers Say" cause deep concern in our community.
Lesson One: There is no shortage of breast cancer news
When we began developing the XRAY program, we asked ourselves and our steering committee, "Will there be enough relevant breast cancer stories in the media to produce a weekly XRAY review?" Contingency plans were brainstormed, including, "We can write back-up reviews in case there is a week when there is nothing in the media!"
Two years later, we can smile at our past naïve selves and unequivocally say, "Yes, there are more than enough stories on breast cancer research in the media." From the weekly churn of new research reports to the flood of stories that hit every October, not a week has passed without new research. In fact there are so many stories that our current weekly calendar is filled all the way out until November.
Lesson Two: The headlines are often the worst parts of the stories
Breast cancer news can be complicated—each week it seems like there is a new gene or a new food connected to the disease. But headlines must be short and eye-catching; while media outlets and journalists have good intentions to cover the news as accurately as they can, they also need more readers and more views. Unfortunately, this can cause headlines that may be sensational or shocking, but are misleading or flat out wrong. Over the past few years we have seen good stories that give all the information a patient needs that are ruined by misleading headlines, which are the first thing that patients read. While these headlines may serve as good "clickbait," they can cause unneeded concern for people facing cancer and their families.
Lesson Three: Some media reports are great, others not so much
We created a rating system to help our community find high-quality articles on breast cancer. In many cases, we saw that stories on the same topic range from high-quality, 5-star articles to more problematic articles with only 1 or 2 stars. This difference in media report quality can lead to confusion—how can a person tell which media report to trust? This is a key reason why the XRAY program was developed. How does an article get 5 stars? In addition to accurate information, well explained statistics, a headline that matches the story, a 5-star article includes a quote from a scientist or health care provider who was not involved in the research being reported. These quotes add important perspective to the article and helps patients understand what the research means to medical and scientific community.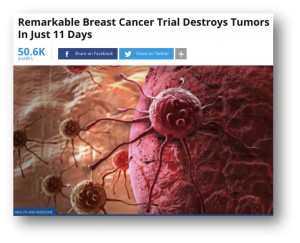 Lesson Four: The media does not always cover the most important stories
Many breast cancer stories involve screening, new drugs, genetic testing, breast cancer risk, and Angelina Jolie. But each week new research on other topics of critical importance to breast cancer survivors, high risk women, and their families are published without any media coverage. Topics such as the financial toxicity of cancer, long term survivorship, metastatic breast cancer, early menopause from treatment or ovary removal, disparities in cancer care, caregiver issues, and much more are important to people facing cancer, but for some reason they are not brought forward as often as they should.  The XRAY staff keeps their eyes open for these stories and brings them forward even when very few outlets cover them.
Lesson Five: All cancers deserve an XRAYS program
Funding for the XRAY program comes from the Centers for Disease Control. The funding mechanism that supports XRAY is geared towards young breast cancer survivors (diagnosed before age 45), young women at high risk for breast cancer, and their caregivers and families. Because this is our sole focus, we miss many important articles on other cancers. In the near future, we plan to expand XRAY to other cancers and encourage everyone to look at media coverage with a critical eye.
Final Thought: We could not do this without help from our friends
The XRAY program benefits from a diverse steering committee, including members from Living Beyond Breast Cancer, Tigerlily, Young Survival Coalition, the Gulf States Young Breast Cancer Survivor Network, Stanford University Medical School, University of South Florida, as well as journalists and young survivors. We have received not only funding but also fantastic guidance from the Centers for Disease Control. Most importantly, we appreciate everyone in our community who comments on our reviews, shares them with their social networks, and continues to support XRAY.
XRAY and beyond.
Brian Greene, an American physicist once said, "I believe the process of going from confusion to understanding is a precious, even emotional, experience that can be the foundation of self-confidence." We hope the XRAY program has helped you go from confusion to self-confidence. We thank Lisa Rezende and Julie Huynh for the first 100 XRAY and hope that you are looking forward to future XRAY from our new Vice President of Education, Piri L Welcsh, PhD.