Sign Up for FORCE Newsletters
FORCE advocates for families facing hereditary cancer in areas such as access to care, research funding, insurance and privacy.
Policy Archive
Successful Effort
Supreme Court Rules Gene Patents Unlawful

In 2009, the American Civil Liberties Union (ACLU) filed a lawsuit challenging Myriad Genetics' patents on the BRCA genes. On April 15, 2013 the U.S. Supreme Court heard oral arguments, and ultimately ruled unanimously that the patents on the BRCA1 and BRCA2 genes were invalid. This landmark ruling represented the culmination of the legal tug-of-war between Myriad and the plaintiffs, including the ACLU as well as individual, advocacy, and health care professional groups.
FORCE strongly supported the stance that exclusive gene patents had negative effects on the scientific, medical and patient communities, and filed an Amicus (Friend of the Court) brief on behalf of the plaintiffs. In addition, a FORCE representative testified before the U.S. Patent and Trademark Office and served as an expert witness on how the exclusive BRCA gene patents influenced research and access to care.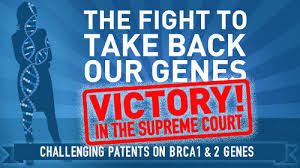 The abolishment of gene patents has fostered competition and substantial growth in the genetic and genomic testing marketplace. Costs for genetic testing have plunged while the growth of multigene panel tests has accelerated quickly enabling the identification of individuals who carry not only BRCA mutations, but also many "new" genetic mutations which cause increased risk of breast, ovarian, and related cancers. In addition to allowing more high-risk individuals to be proactive with their health, the new landscape is fostering a more personalized approach to cancer treatment with the development of therapies that target tumors based on their unique biology.
Take Action Now
2022 Priorities
Advocacy Archive
Public Policy Initiatives
News Briefs
4/25/2022 - FORCE added its support to an effort spearheaded by SNMMI asking the House Energy and Commerce and Ways and Means Committee Leadership to schedule a hearing on the Facilitating Innovative Nuclear Diagnostics (FIND) Act.
5/2022 - Joined a coalition letter to the HHS Secretary emphasizing that regulatory reform of the framework for clinical laboratory diagnostics is essential to protect patients and ensure access to innovative, high-quality diagnostic tests.
3/29/2022 - Signed on in support of the Right Drug Dose Now (Right) Act, which will advance utilization of evidence-based pharmacogenomic (PGx) information in clinical practice, advance precision medicine, and improve quality of care.