Sign Up for FORCE Newsletters
FORCE advocates for families facing hereditary cancer in areas such as access to care, research funding, insurance and privacy.
Policy Archive
FORCE Supports Chemotherapy Parity Initiatives
Oral chemotherapy is becoming more common and is the standard of care for many types of cancer. Oral treatment also accounts for about a third of the drugs being developed to treat cancer. Importantly, many oral anti-cancer medications do not have IV or injected alternatives, and are the only option for some patients. PARP inhibitors, which hold great promise for treating BRCA-related cancers, are just one example. For this reason, these medications must be as affordable as their IV counterparts. FORCE is supporting the Cancer Drug Coverage Parity Act, a national legislative initiative that strives to create equal insurance coverage of patient-administered and physician-administered cancer treatments.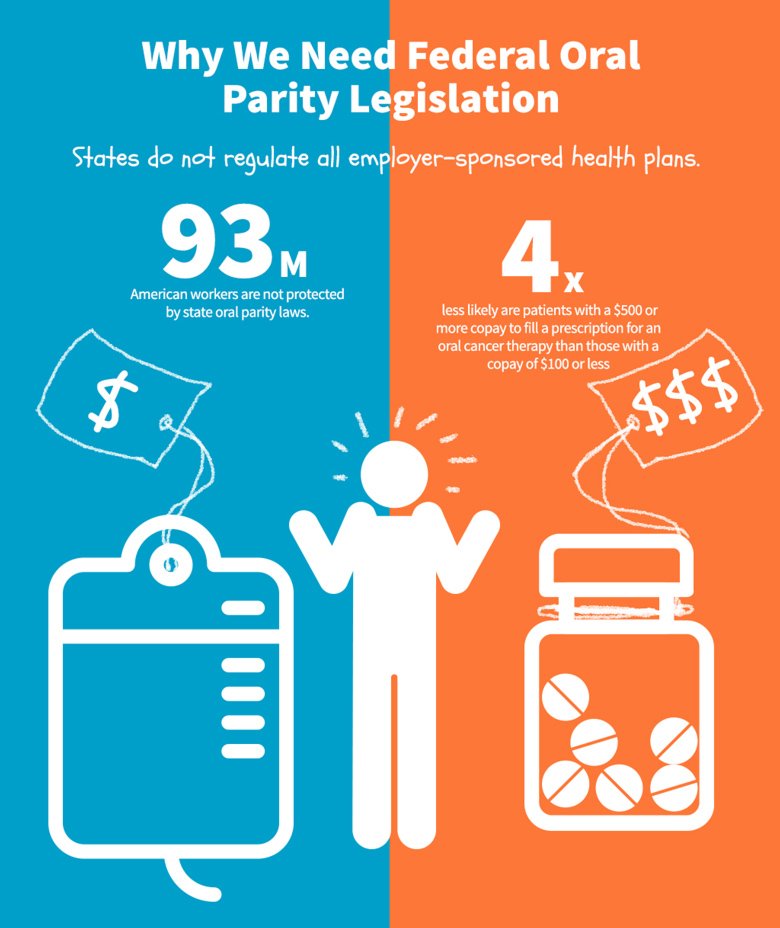 The Cancer Drug Coverage Parity Act requires any private health plan that provides coverage for cancer chemotherapy treatment to also cover anticancer treatment regardless of the delivery method—including oral, self-administered anticancer medication at a cost similar to that of IV, port administered, or injected anticancer medications. Patients who receive intravenous (IV) therapies, covered under an insurance plan's medical benefit, are responsible only for a copayment for each office visit. Oral chemotherapy, however, is typically covered under an insurer's pharmacy benefit, resulting in substantially higher out-of-pocket costs and a significant financial burden for many patients.
Oral anticancer drugs have become the standard of care for several types of cancer in recent years. Many of these new oral therapies target specific biologic processes in cancer cells and block cancer cell growth. In addition to their specificity, which can result in reduced toxicity and side effects, oral agents are convenient—especially for patients who travel long distances to their treatment facility.
Outdated insurance coverage policies have not kept pace with medical innovation and the growing trend toward orally administered chemotherapy. FORCE believes that every cancer patient should have access to the anticancer regimen recommended by their health care team, and should not be subject to cost discrimination based on the delivery mechanism of the therapy.
FORCE is a member of the Coalition to Improve Access to Cancer Care (CIACC), previously known as the Patients Equal Access Coalition (PEAC), and is supporting state-level efforts to address this issue in addition to the national legislative initiative.
Take Action Now
2022 Priorities
Advocacy Archive
Public Policy Initiatives
News Briefs
4/25/2022 - FORCE added its support to an effort spearheaded by SNMMI asking the House Energy and Commerce and Ways and Means Committee Leadership to schedule a hearing on the Facilitating Innovative Nuclear Diagnostics (FIND) Act.
5/2022 - Joined a coalition letter to the HHS Secretary emphasizing that regulatory reform of the framework for clinical laboratory diagnostics is essential to protect patients and ensure access to innovative, high-quality diagnostic tests.
3/29/2022 - Signed on in support of the Right Drug Dose Now (Right) Act, which will advance utilization of evidence-based pharmacogenomic (PGx) information in clinical practice, advance precision medicine, and improve quality of care.