Anyone who regularly uses the internet knows it's awash in health information. Google is often the first place we turn to self-diagnose symptoms or research ways to treat or prevent an illness.
While much of the information found online is reliable, a startling number of websites contain confusing, misleading or incorrect information. Some sites publish sensational stories, like the "cancer cure" headline in the Jerusalem Post that gave people false hope that a cancer cure was around the corner. Some try to motivate people to buy bogus products. Others, like this Newsweek piece, just get the science wrong.
FORCE is fighting this dangerous trend by launching an interactive toolkit and quiz that teaches people how to spot unreliable health information. The online tool provides three key questions and five red flags that people should look for when reading health information before forming an opinion or sharing the information.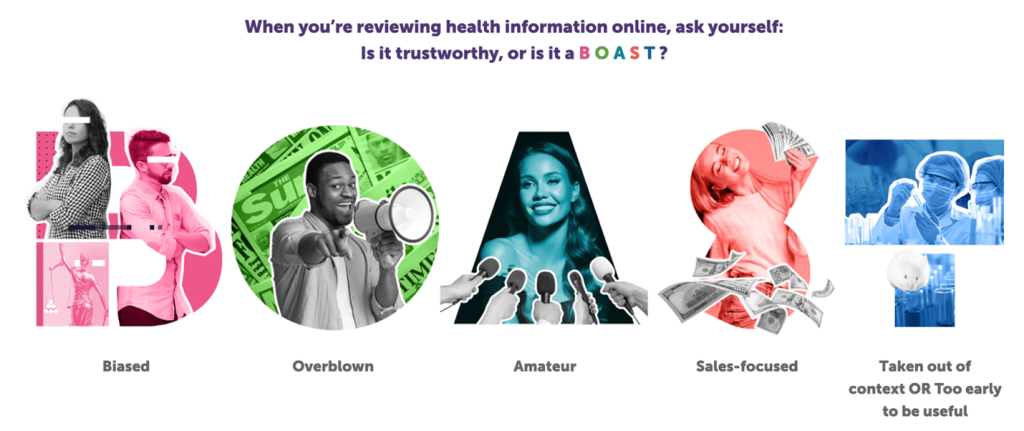 FORCE hopes the tool will help the public do more fact-checking on health information, make more informed health decisions and slow the spread of unreliable health news online, which is at record highs. With data from MIT showing that false news stories are 70% more likely to be shared on Twitter than true stories, it's no surprise that public health experts are sounding the alarm about an "infodemic" of online health misinformation.
FORCE has been passionate about combatting health misinformation for nearly a decade. Through a cooperative agreement from the Centers for Disease Control and Prevention (CDC), we received initial funding to create our XRAY (eXamining the Relevance of Articles for You) program in 2015 to review breast cancer topics reported in the media. Today, the program has expanded to analyze health news and information pertaining to half a dozen types of cancer.
Like our XRAY program, our new toolkit was designed with our constituents—cancer patients, survivors, previvors and caregivers—in mind; however, its contents are useful for evaluating health information of any kind. FORCE will be sharing the tool widely through social media and other channels, and we encourage our nonprofit partners, volunteers and other community members to share it as well.
By getting the word out, we can each play a small role in combatting the spread of dangerous health misinformation.
This initiative was launched with the support of the following sponsors: AstraZeneca, Clovis Oncology, Daiichi Sankyo, Eisai, Exact Sciences, Foundation Medicine, GSK, Janssen, Merck and Seagen.