by Sandy Cohen
Unfortunately, my story is not that uncommon. I'm a motherless daughter. I lost my mom to breast cancer when I was 26 years old. And she lost her mom to the disease before she graduated high school. This all occurred before the BRCA1 mutation was even discovered. Today, thanks to FORCE's programs, personalized, hereditary cancer support is available so that nobody needs to face this experience alone!
Hereditary cancer, then
Back then nobody talked about the Big "C." It was all hush-hush. When genetic testing became available, I was very interested, but also very afraid, and not ready to learn if the cancer in my family was due to a genetic mutation. I underwent surveillance for 10 years until I finally found the courage to undergo genetic counseling. My counselor recommended that someone in my family who had cancer be tested first to get the most accurate result. So I called my mom's doctor to find out if they kept any of her blood work. To my surprise, they said they still had a frozen sample of her breast tissue and that it was still viable after 10 years after her passing. Fox Chase Cancer Center in Philadelphia tested her tissue and determined that my mom did carry a BRCA1 mutation.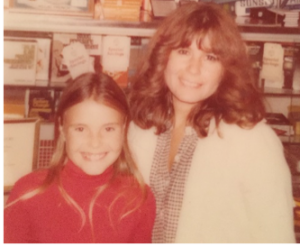 I was diagnosed with the same mutation when I was two years younger than my grandmother when she passed away. Even though I thought my test results would come back positive, I was not prepared for the wave of emotions I experienced for myself and my family. I was devastated. I spent months reading books and searching the internet to learn more about my options to manage cancer risk and how to tell others in my family. It was scary being the first person in my family diagnosed with this mutation. I was desperately looking for someone to talk to on the phone who could understand my situation. I needed to know I wasn't alone.
This was 13 years ago, long before Christina Applegate and Angelina Jolie announced that they had a BRCA genetic mutation. It was really hard to find someone who had the BRCA genetic mutation and even harder to find hereditary cancer support. Not knowing what to do, I went to my rabbi and shared my fears. He smiled at me because he knew the perfect person to help. His wife had just learned that she, too, carried the same mutation. We instantly bonded.
Building a hereditary cancer support network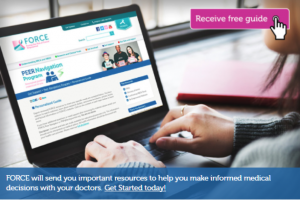 I recognize now that I was provided many gifts that year. My mom left me the gift of her breast tissue to be tested. The rabbi introduced me to his wife Rebecca, who became a lifeline to help me through this journey. And together we found FORCE, which helped me recognize that knowledge is power and that I could take actions to drastically reduce my risk and change my fate. However, it took me many months to gather all of this information. And that is what I remembered clearly as I worked with FORCE's staff and scientific advisory board, as the Sr. VP of Volunteer Programs to create the Peer Navigation Program. It was exactly what I had longed for to help myself and my family, and to help spare anyone else from becoming a motherless child because of breast cancer.
Hereditary cancer, now
Luckily, now, with the Peer Navigation Program, people can spend less time worrying how to find information and more time working with their doctors and family to make medical decisions. Being matched to a trained Peer Navigator volunteer who shares a similar experience and being given a free personalized guide is exactly what individuals need to help make informed medical decisions.
To get started, complete a secure survey and select from the topics below to create your own personalized guide. A Peer Navigator will reach out to you within a week to schedule a confidential call.

FORCE is extremely grateful to all of our generous sponsors and our passionate Peer Navigator team of 130 trained volunteers, aged 21-75, with different experiences and genetic mutations. We are very appreciative of all the health care providers who have referred patients to our program. Together, the program has positively impacted the lives of 1,000 individuals since it's launch in April 2016. Evaluations from our program users have been overwhelmingly positive! This milestone is just the beginning, as we pilot the program in rural areas of Kansas (with a Prevent Cancer Foundation Grant) and in rural areas of Alabama, Maine and Utah (with a Celgene Innovation Impact Award) to help individuals who do not have access to this lifesaving information.
The Peer Navigation program is beneficial for men and women who have either just learned about their family history or have known for years, and for their caregivers. Get matched today, meet a friend, learn about new resources and share them with your family and friends. If you are interested in paying it forward, inquire about volunteering as a Peer Navigator.
Learn more by visiting www.facingourrisk.org/pnp.