by Tara Coffin, PhD, MEd
Too often, we take care of ourselves last. But when it comes to hereditary cancer, learning our risk of cancer can help us take care of ourselves and can help our family as well. Genetic testing can help people with a family history of cancer learn more about their risk. The resulting information can drive healthcare decision-making, encouraging conversations with your doctor about increased screening or surveillance programs and supporting early detection and improved outcomes. Testing may also give you information that you can pass on to your family. Learning your risk of pancreatic cancer is not just about your own health and wellbeing—it is also about taking care of your family.
With th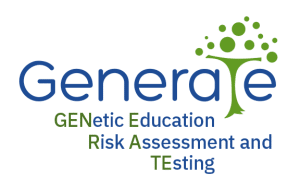 e help of the GENERATE Study, adults with a family history of pancreatic cancer have gained this knowledge too. Research suggests that most people who test positive for a genetic mutation that increases their risk of pancreatic cancer will have a BRCA mutation. Not only does a BRCA mutation raise your risk of pancreatic cancer, but it also raises your lifetime risk of breast and ovarian cancer.
With this in mind, the GENERATE Study may provide insight that you can take to your doctor and help inform next steps. This groundbreaking study is offering in-home genetic testing at no cost to eligible adults in the U.S. who may be at risk for pancreatic cancer. Visit our study listing to see if you are eligible.
"My brother had just been diagnosed with pancreatic cancer. He never even had cavities, and then all of a sudden he was battling a serious disease. He had just started chemo when he learned about GENERATE. Since he had learned he was positive for a mutation linked with pancreatic cancer and was now dealing with the disease, he insisted that I enroll in the study to get more information about my own risk status.
Learning my risk status was important. Knowing that we have a mutation in our family helped to explain a lot of things. I'm so glad to know. This information provides me with the knowledge I need to make important health decisions. To figure out what care I need. I know how to stay informed about my health in ways that I would not have been able to do before participating in GENERATE. I know what I need to talk to my doctor about. I know what I need to make sure I do and when to do it.
My brother is doing great. And now I know how to plan."
~GENERATE study participant
Additional Resources
 FORCE has additional resources related to hereditary pancreatic cancer risk:
Tara Coffin is a public health geneticist and communications consultant with an interest in hereditary cancer, diversity in research and health communication.