by Karen Kramer, FORCE Senior VP of Marketing
"It's a beautiful day to save lives."
That phrase was often said by Patrick Dempsey's character—Dr. Derek Shepherd (aka "McDreamy")—on Grey's Anatomy.  It is a statement that resonates with me and has been a guiding principle for FORCE since the organization's founding in 1999 by Sue Friedman, FORCE's Executive Director.
So, it was fitting that Patrick Dempsey presented Sue and three other amazing individuals with a CURE Media Group 2018 Ovarian Cancer Hero Award on March 23, 2018. Hosted by CURE Media Group and sponsored by TESARO, the celebration in New Orleans recognized individuals who have made exceptional contributions to improving the lives of people affected by ovarian cancer. I nominated Sue because she is my hero. From her own personal experiences as a breast cancer survivor with a BRCA2 mutation, Sue recognized the need for an organization devoted to hereditary breast, ovarian, pancreatic and prostate cancer (HBOC); she founded FORCE to address these needs.
I have seen firsthand the impact of Sue's vision. As a previvor with a BRCA1 mutation, FORCE helped me and my family members make informed medical decisions that have kept us as healthy as possible. As a FORCE staff member, I have been honored to be part of the amazing team that has made significant contributions to patients with or at high risk for ovarian, and other inherited cancers.
Over the last 20 years, FORCE has reached over a million individuals with hereditary ovarian cancer information, resources, research and support by:
educating over 500,000 individuals about the hereditary link to ovarian cancer and ways to lower the risk for ovarian and other hereditary cancers.
providing peer support to over 100,000 individuals with or at high risk for hereditary ovarian cancer.
championing and helping match patients to research studies looking at the fallopian tube origins of ovarian cancer.
championing and helping to recruit patients into PARP inhibitor ovarian cancer treatment studies, which led to FDA approval of three new agents to treat ovarian cancer.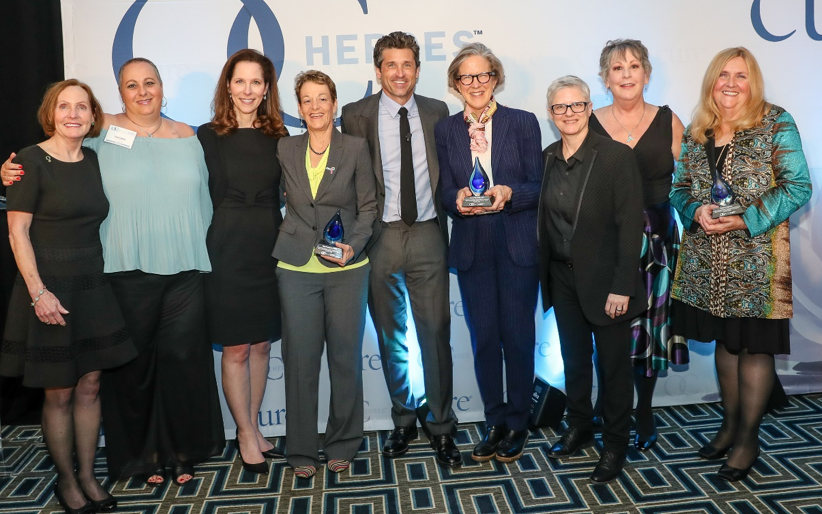 The other Hero Award honorees were:
Carolyn Berson, RN, MSN, nurse navigator for the Gynecologic Oncology program at John Muir Health in Walnut Creek, California, who provides symptom management and quality of life guidance to patients and their families.
Ovarian cancer survivor Susan Leighton, who co-founded Lilies of the Valley, an organization in the Tennessee Valley that supports women with gynecologic cancers. Susan also directs the Ovarian Cancer Research Fund Alliance's Survivors Teaching Students program.
Gynecologic oncologist Laurel Rice, MD, chair of the Department of Obstetrics and Gynecology at the University of Wisconsin-Madison School of Medicine and Public Health and president of the Society of Gyncologic Oncology. She also created a Clinical Trials Task Force to develop resources that promote clinical trials in gynecologic oncology.
As the person who nominated Sue for the award, I was invited to present my nomination letter as part of the event. I brought my daughter, Joanna as a guest. Joanna has grown up with the knowledge and empowerment that FORCE provides to families affected by hereditary cancer. As her guest, Sue invited ovarian cancer survivor Teri Woodhull. Teri is Vice President of FORCE's Board of Directors, and a long-standing volunteer and champion for FORCE.
As keynote speaker, Patrick Dempsey honored the four winners, while sharing his mother's ovarian cancer story. Her diagnosis led him to found the Dempsey Center, which provides free integrative medicine services, support and resources to people and families affected by cancer. It is heartwarming to see people using their celebrity for the greater good. Patrick Dempsey could not have been more humble and genuinely honored to be part of this incredible evening.
Like Sue, I am thankful every day that I am part of the incredible FORCE team that also knows that "it's a beautiful day to save lives."  I know that the awareness we raise and the services we provide are doing just that.