by Lisa Schlager
On December 27th, the Food and Drug Administration (FDA) approved olaparib (Lynparza) – a  type of targeted therapy known as a PARP inhibitor—for treatment of metastatic pancreatic cancer in people with a BRCA mutation. PARP inhibitors have been approved to treat ovarian cancer since 2014, and to treat metastatic breast cancer patients with a BRCA mutation since 2018. This recent action marks the first FDA approval of a PARP inhibitor for treatment of pancreatic cancer. FORCE applauds this approval, which followed a December 17 public meeting of the FDA Oncologic Drugs Advisory Committee (ODAC), during which I presented FORCE's remarks in favor of this approval.
This new approval was based on the results of a large, Phase III clinical trial known as the POLO study. Patients enrolled in this study received either olaparib or a placebo as maintenance therapy (given after completing standard of care chemotherapy). Patients who received olaparib went twice as long before their disease progressed than those who received placebo. Although overall survival was unchanged in the POLO trial, those who received olaparib benefitted from twice as much time without chemotherapeutic drugs. This is notable because quality of life tends to be much better for patients when they are not on chemotherapy.
The FDA approved olaparib as maintenance therapy for patients whose pancreatic cancer has not progressed following at least 16 weeks of first-line platinum-based chemotherapy and whose BRCA status has been confirmed by genetic testing. PARP inhibitors are now recommended by the National Comprehensive Cancer Network based on evidence from the POLO trial. This FDA approval paves the way for more patients to have access to the drug.
Building on this approval, researchers are continuing to study how to best use PARP inhibitors to achieve longer and better outcomes in patients with pancreatic cancer. Clinical trials are looking at PARP inhibitors for treating people with other gene mutations, such as PALB2, and PARP inhibitors in combination with other agents, such as chemotherapy or immunotherapy.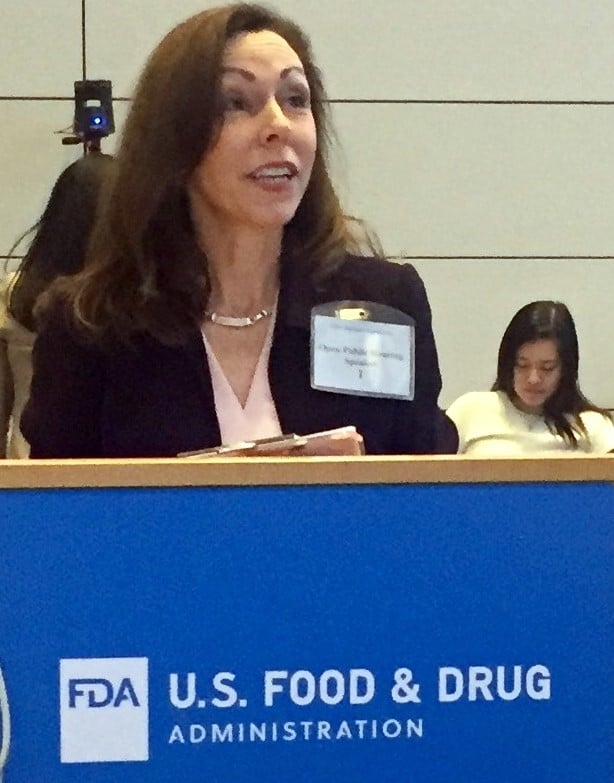 Lisa Schlager, Vice President of Advocacy, testifying at the FDA.