by Aya
It all started with Mother's histopathology report on her partially resected small bowel.
She had small bowel cancer. With my middle name being "I-want-to-know-more," I asked for a pathology report after a post-op consultation with her surgeon where future management was discussed.  When I read the report at home, I noticed an aspect of pathology results that the surgeon had not mentioned, which said:
"Immunohistochemistry for mismatch repair gene products: MSH6 loss….hMSH6 is absent from tumour cell nuclei suggesting MSI-h CRC, which is associated with HNPCC/Lynch syndrome."
I interpreted it as Mother's cancer being possibly caused by a genetic condition. We asked Mother's primary doctor, who simply said he wasn't trained to interpret it. We then consulted my primary doctor, who had some knowledge on Lynch Syndrome. He referred me to a breast surgeon, a gynaecological oncologist and a bowel surgeon, and said I should have my uterus and ovaries removed.  I didn't fancy getting my organs removed (even though they were "semi-retired") without being diagnosed with Lynch Syndrome myself. Mother's mutation wasn't confirmed at that stage, and even if she was found to be a mutation carrier, I may not have inherited the faulty gene from her, I thought—or I hoped!
I went on to see a geneticist. He said that Mother's pathology results alone didn't mean she had a germline mutation, and that genetic testing is required to confirm a Lynch diagnosis.  He also said, however, that genetic testing is prohibitively expensive (in Australia, where I live) due to its complexities. His analogy was, "It's like trying to find one possible little typographical error which may or may not exist within an entire phone book," hence no pathology lab would want to do this.  The geneticist recommended that I begin a very high level of screening, including annual colonoscopy, and to consider hysterectomy and oophorectomy.
Not fully convinced, I did my own research and found that genetic testing for Lynch is indeed available in Australia, and in some cases it is free of charge through the genetic counselling services run by the State government.
Two years after reading that fateful pathology report, we finally had Mother genetically tested, which confirmed her Lynch Syndrome MSH6 mutation.  Then I was tested, which confirmed that I too did indeed inherit the mutation.  I had a 50/50 chance of inheriting this faulty gene—that made me wonder why I don't win the lottery every other time I play!
Of course, it would have been nicer if Mother and I didn't have this mutation, but I am glad that we found out about this condition.  I always suspected that some genetic thing was happening on my maternal side: Mother had breast, kidney and small bowel cancer, and her family had history of pancreatic, endometrial, colorectal and ovarian cancers.  Unfortunately, this knowledge did not come soon enough for my late mother, but my experience from the official diagnosis has been a surprisingly positive one.  I now have some serious risk-reducing/preemptive measures, rather than being vaguely wondering if/when I might get cancer.
I owe this to the amazing people I got in touch with, including people at Lynch Syndrome Australia and Genetic Health Queensland (Australia). I have learned so much through the information provided by them, which makes it easier for me to make informed decisions.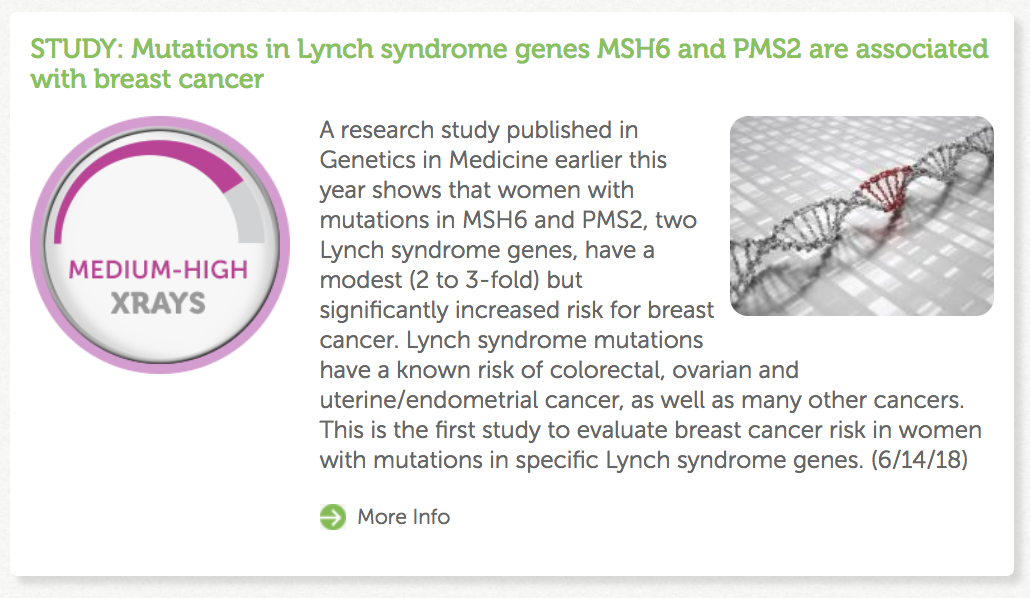 I had my uterus and ovaries (sort of happily) removed shortly after my diagnosis.  I had some initial concerns, but speaking with the inspirational founder of the aforementioned Lynch Syndrome Australia, who has been there and done that, and subsequently visiting the site she recommended—HysterSisters—made this process so much easier.
As far as the Lynch issue is concerned, I am pretty content, but I have one unresolved issue: breast cancer risk. Officially, my risk is the same as the general population, as Lynch Syndrome is not associated with the disease.  A recent study, which is the focus of this week's XRAYS review, linked 2 Lynch genes (PMS2 and my MSH6) to breast cancer.  I also carry BRCA1 mutation (albeit just a variant of no known significance), have very dense breasts, and my mother had breast cancer, all of which may increase the risk of breast cancer.
Science has not yet caught up to give me answers to all this, but FORCE has been instrumental in helping me with up-to-date information through XRAYS and other support programs.  Being on FORCE's peer navigation program has been an empowering experience; the support I have been receiving from my amazing peer navigation volunteer, Annette, has been just unbelievable.
I feel so blessed to be connected to fabulously inspirational people.