by David Dessert
I was diagnosed with stage 3 unresectable pancreatic cancer at age 48 after 5 months of ever-increasing back and abdominal pains. After a non-standard treatment with Gemzar/Cisplatin chemotherapy (because of my BRCA2 mutations), followed by chemoradiation, and 12 months later the removal of my pancreatic tumor, my surgeon told me that I did not need any more treatment. I knew, however, that 75% of pancreatic cancer survivors go on to have a recurrence after surgery. Based on my surgeon's recommendation, I could either do nothing or participate in a clinical trial (NCT01088789) as added insurance against recurrence.
The G-VAX immunotherapy vaccine had been tested before, but not with much success. But it did seem to help some people, and this trial is an attempt to expand its effectiveness by adding another component to the treatment. I liked that the vaccine was developed using a BRCA2-deficient cell line, perhaps making it more like my own BRCA2-deficient tumor.
This clinical trial is performed at Johns Hopkins in Baltimore and I am in Texas. However, the treatments are only twice per year. At each treatment, I get an IV of Cytoxan on day 1 and then 6 subcutaneous vaccine shots on day 2. I can do the entire treatment with a single overnight stay in Baltimore, although I must travel by light rail, plane, and car to get there and get home.
After each treatment, I get flu-like symptoms: fever, head and body aches, and fatigue that start a few hours after the injections. The symptoms last about 36 hours and then I'm back to normal, except for rashes at the injection sites that last a few weeks. Occasionally and out-of-the-blue I get one-day, flu-like symptoms just like when I get the shots and I must sleep for a day. Is this my immune system wiping out a new cancer? Is it reacting to something I've eaten? What is my immune system fighting? Will this happen for the rest of my life?
It been over 5 years since my surgery. I have been in this G-VAX vaccine trial since then, and it runs for another 5 years or until I have a recurrence. Insurance coverage of the scans is always down-to-the-wire. At 5 years after diagnosis, I am no longer allowed 2 scans per year. My insurance always initially denies coverage, but being in a clinical trial, it has always been approved. As Congress debates repealing or removing protections from the Affordable Care Act, I am concerned about possible re-introduction of pre-existing conditions and high-risk pools. Does my participation in a clinical trial put me at risk of losing out on affordable insurance? Even though it's been more than 5 years since I had any detectable cancer, I cannot say that I have not been treated for cancer. That's what the trial is about.
The marketing campaign for immunotherapy says that you are "harnessing the power of your own immune system." More like, "unleashing." It removes some of the checks and blocks that keep your immune system from attacking your own body. What if it is unleashed on some of my healthy organs? Are the joint pains I'm experiencing a part of normal aging or is my immune system geared up? Is the treatment related to my unexpected cardiac problems? For help understanding these questions and more information on immunotherapy treatments including monoclonal antibodies, immune check point inhibitors, non-specific immunotherapies and cancer vaccines, check out the Immunotherapy section on the FORCE website. You can also search for pancreatic cancer treatment clinical trials using our HBOC Research Study Search Tool.
I chose immunotherapy because the alternative was to do nothing and hope I was in the 25% without a recurrence. I chose a clinical trial to advance the science into cancers my family may someday face.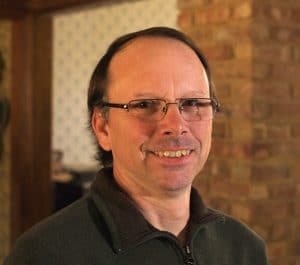 David is a pancreatic cancer survivor with a BRCA2 deleterious mutation and participates daily in pancreatic cancer message boards, providing a perspective as one of the few long-term survivors. He is co-moderator of The CancerForums pancreatic cancer forum, helping patients and caregivers understand their options. He also volunteers with FORCE as a peer navigator and recently represented FORCE as a consumer reviewer at the DoD Peer Reviewed Cancer Research Program (PRCRP).