Hi everyone,
My name's Georgia Clark, and I'm the author of The Bucket List. Twenty-five-old Lacey Whitman is blindsided when she's diagnosed with the BCRA1 gene mutation: the "breast cancer" gene. Her high hereditary risk forces a decision: increased surveillance or the more radical step of a preventative double mastectomy. Lacey doesn't want to lose her breasts. For one, she's juggling two career paths; her work with the prestigious New York trend forecaster Hoffman House, and her role on the founding team of a sustainable fashion app with friend/mentor, Vivian Chang. Secondly, small-town Lacey's not so in touch with her sexuality: she doesn't want to sacrifice her breasts before she's had the chance to give them their hey-day. To help her make her choice, she (and her friends) creates a "boob bucket list": everything she wants do with and for her boobs before a possible surgery.
This kicks off a year of sensual exploration and sexual entertainment for the quick-witted Lacey Whitman. The Bucket List explores Lacey's relationship to her body and her future. Both are things Lacey thought she could control through hard work and sacrifice. But the future, it turns out, is more complicated than she could ever imagine.
I don't have the BRCA gene mutation. The inspiration for this story started with a cancer scare of my own. I was in Sydney, on book tour for my last book (The Regulars). While getting a routine Pap smear, my doctor felt a lump. I was scheduled for a diagnostic ultrasound on the same day I was doin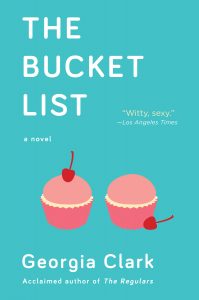 g my first live TV appearance, a meet-and-greet at Simon & Schuster Australia, an in-depth 30-minute radio interview, and my book launch. Ultimately, the lump was benign, but the stress, fear, and "what ifs" stayed with me.
I was aware of preventive mastectomies, and the concept intrigued me: it felt feminist and raw and emotional; all the things I like in a story. In the first outline, the action was focused around a woman who'd had a mastectomy and was starting to date again. But as I started my research, it quickly became clear that this was not the most dramatic part of a previvor's journey; that would be the time before the decision. Switching the focus added a ticking clock (always good for fiction!), and then the question of the bucket list naturally arose; what would you want to do with your breasts if you were thinking about losing them? What hadn't you done? Were you meeting your own sexual needs? This created the story.
I did extensive research to bring Lacey's story to life, through in-person or phone interviews with women who'd had mastectomies and women with the BRCA gene mutation who were still deciding what to do; with various medical professionals including surgeons and genetic counselors; in-person visits to support groups; and, of course, a lot of reading on the subject, mostly memoirs and essays. I connected with Sue Friedman from FORCE, who was generous with her time in helping me understand all aspects of this world. I also looked at how other authors who undertook similar projects (e.g. John Green for The Fault in Our Stars) conducted their research, and drew inspiration from their techniques.
Through writing this book, I have been introduced to the previvor community; women who have had preventative surgeries to mitigate hereditary risk. I am in awe of these women, many of them young women. I felt strongly called to bring this uniquely female story to the page in a way that was emotional, authentic, and sexy, with plenty of room for humor. I love writing about strong women who make tough choices. I hope you enjoy my new novel; please share your thoughts with me.
"A compelling, thoughtful take on a very real women's health issue; both confidently sexy and lighthearted at the same time." — Kirkus Reviews
"Wonderfully eye-opening, clearly well researched, and handled delicately, this is sure to make summer a little hotter." — Library Journal