We often get asked, "What's legal about cancer?" The answer may surprise you because cancer-related legal issues include choosing and using health insurance, your rights at work, disability insurance, finances, housing, education, estate planning, medical decision-making and much more.
Each of these topics is rooted in the law, and having a basic understanding of these issues could mean keeping your health insurance, your job, your home and avoiding the financial burden of a cancer diagnosis.
Triage Cancer offers a variety of services and resources to inform and empower you. We are a national nonprofit organization that provides free education on the legal and practical issues that may impact individuals diagnosed with cancer and their caregivers. We provide events, materials and resources.
Our educational Triage Cancer Conferences are one-day online events that are open to anyone who wants to learn more about navigating practical issues, minimizing financial burdens and reducing stress. Topics include insurance, work, finances and planning ahead. As an attendee, you will walk away with the knowledge, resources and confidence you need to navigate the many systems that are involved in cancer care. Register at no cost for the conference on May 20, 2023.
Our monthly webinars cover topics like options for health insurance when you leave a job, housing rights, disability insurance, Medicare, education rights, caregiving and so much more. Webinars are 60-90 minutes and are recorded for you to watch at any time. Register now for one or all of our 2023 webinars.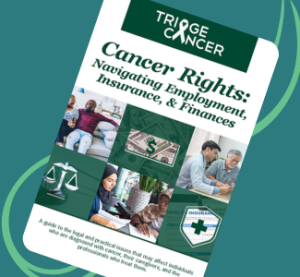 If you have questions about health insurance, disability insurance, employment, finances, medical decision-making, estate planning or other cancer-related legal and practical issues, you can contact our free Legal & Financial Navigation Program. During a one-on-one consultation, our staff will provide accurate information, help you understand your options and empower you to take the next steps. You can schedule a talk with our staff by filling out an intake form online.
Triage Cancer's Practical Guide to Cancer Rights covers some of the most common issues that individuals face when diagnosed with cancer. Topics include choosing and using health insurance, understanding your rights at work, taking time off and paying for it through disability insurance, and managing medical bills. We also offer other Guides that are specific to young adults, seniors and caregivers.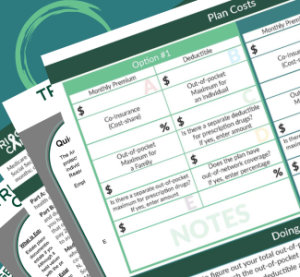 If quick and easy is more your style, our expansive library of Quick Guides, Checklists and Worksheets is for you. If you are a visual learner, watch our award-winning series of animated videos. These resources are also available in Spanish.
The Triage Cancer Blog is one of the best ways to get the latest information on legal and practical issues impacting the cancer community, including late-breaking news and advocacy opportunities. We post 1-2 blogs per week, and you can subscribe to have blogs delivered directly to your email inbox.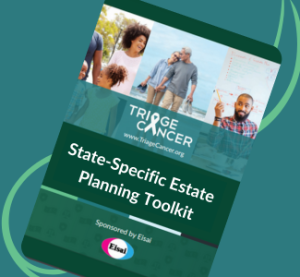 Curious about your options when newly diagnosed? Your options as a caregiver? Payment options for prescription drugs or long-term care? CancerFinances.org is an interactive, free, one-stop shop to help you manage your finances after a cancer diagnosis. It is designed to guide you to information that is most relevant to you, and it can also connect you to financial assistance resources. You're sure to find what you need with more than 15 modules of important information.
Where you live can impact your rights. Sometimes state laws are more protective than federal law or states offer certain programs and benefits. We track those state laws on our Charts of State Laws. Our Resources By Location page provides state-specific contact information for those programs.
For more information about the free programs and services offered by Triage Cancer, visit TriageCancer.org. © 2023 Triage Cancer