by Marleah Dean Kruzel, PhD
When I was eight, my mother found a barely noticeable breast lump. I watched her undergo surgery, chemotherapy, nausea, hair loss, radiation, and reconstruction. Though scared, I was determined to be involved in her recovery, as much as an eight-year-old could be.
Becoming involved has helped me cope with my own high risk of cancer. That eight-year old girl became a professor in Health Communication at the University of South Florida.
My research explores BRCA+ patients' experiences in decision making and managing an uncertain future. I also volunteer for the FORCE helpline. Most recently, I enrolled as a participant in the ABOUT Patient-Powered Research Network.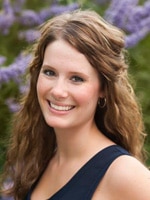 Traditionally, researchers pose questions and hypotheses. ABOUT seeks patients who are affected by HBOC, asking them about their health decisions, outcomes, and unanswered medical questions, and then conducts research to answer those questions and concerns (see sidebar). This information will be used to improve research on patient health decisions, subsequently assisting women in making such decisions.
As a researcher, I understand that research is the path to improve medical care. As a BRCA2 previvor, I enrolled in the ABOUT registry as a powerful way to give back to my community. As a professor of Health Communication, I have applied for the ABOUT Steering Committee to use my expertise to inspire others to join the network and assure it's success. I am not unique. Every person has something to offer ABOUT and the HBOC community. As patients, we are the experts who hold the key to improving our health outcomes. If you would like to be involved in ABOUT, visit facingourrisk.org/registry.