by Jennifer Davis
Have you ever wondered where your family comes from, what unique traits you share with your ancestors, or pondered clues that might reveal your relative's BRCA journey? My maternal great-grandmother sparked my interest because of her short life span and what little we knew about her. That, in combination with my mother's breast cancer diagnosis and positive BRCA1 result, initiated a quest to trace our family's shared mutation. Years ago when my mother discovered she had inherited the mutation, we developed a pedigree that reflected our family members' health history.
We began with my great-grandmother Ethel, whose heritage was German. We only knew ourselves to be Methodist, but with one of the three founding BRCA mutations known to be prevalent among those of Ashkenazi or Eastern European descent, would we find that we were actually Jewish? We had no doubt that Ethel had the mutation — both of her children died from breast or ovarian cancer, and according to her death certificate, she died at age 32 with 'carcinoma of breast.' Uncovering the secrets about my family's past decades later was amazing. I quickly discovered that death certificates offer a goldmine of information about ancestors, providing tips that lead to their past. This established a starting point about my family's origin and provided valuable information about my own health history.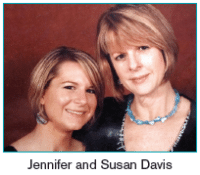 Sharing the BRCA results with family members led to mixed responses. While some did not pursue testing immediately, all of the males initially hesitated. Interestingly, a set of identical female twins chose opposite paths — one wanted to test, while the other did not (they eventually both tested positive). In all, 19 family members have been tested: Thirteen females and three males were positive for a BRCA1 mutation, including my only sibling, and three tested negative. Three of the positive females, including me, have had prophylactic surgery. One who delayed planned testing and prophylactic surgery was then diagnosed with breast cancer one month later. We have lost four family members to breast or ovarian cancer, and we now have three BRCA1-positive breast cancer survivors in our family. Several are involved in ongoing studies.
To say that my family's BRCA journey has been an eye-opener would be an enormous understatement. The path leading to BRCA testing has in many ways opened the door of communication between us and brought us closer. Without a doubt, those who tested positive now realize they have tools to make educated decisions about their future medical care. Looking ahead as a 27-year-old woman with a mutation who has already undergone bilateral mastectomies and reconstruction, I know that once I have had my children, I will face a prophylactic bilateral salpingo-oophorectomy when the time is right.
My ever-evolving search included a trip to Ohio where my ancestors immigrated, and eventually I will travel to Wurttemburg, Germany where they once lived. It has been fascinating so far to visit the home where my great- and great-great grandmothers once lived, and to find a relative who fought and was captured in the Civil War.
Looking into your own past can be equally rewarding. Your research provides a wonderful gift that can be passed down from one generation to the next.