by Lita Poehlman
In December 2007 my life was forever changed when my husband and I flew to Israel. I spent the flight talking to another traveler, Judy Ludin. When we met, I knew that I had found someone very special who would impact my life. I was about to learn how true my instincts were.
Judy was traveling with her father, and when I asked why her mom hadn't joined them, Judy informed me that her mother was recovering from surgery and treatment for ovarian cancer.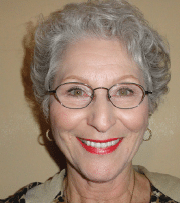 I told her my baby sister had died of ovarian cancer three years ago and my other sister was fighting a recurrence. Immediately, she asked, "Lita, have you been tested for the BRCA gene mutation?" Surprisingly, with all the cancer in my family and my own complete hysterectomy at age 28, I was unaware of this mutation. Judy explained the connection between BRCA and people of Ashkenazi Jewish descent and urged me to explore testing. She also told me about the FORCE website, and her sister, Debbie, who worked for the organization.
After returning home, I threw myself into researching BRCA testing. I spoke with a genetic counselor and decided to have my blood drawn and tested. My results showed that I carry a BRCA1 mutation. I sent my results and letters from my genetic counselor to all of my first-degree relatives. My daughter tested positive for a BRCA1 mutation and for now, has chosen surveillance and tamoxifen. My two sons have not been tested yet, but they tell me they will. My niece, an amazing young woman who has helped many women through her active outreach in the BRCA Facebook community, also has the same mutation, as does her mom, my sister.
I decided to have prophylactic bilateral mastectomies (PBM) and immediate expander reconstruction. But things didn't go so well and subsequently, I had two more implant reconstructions which were ultimately replaced with tram flaps. Even at age 68 I feel that all I have been through was worth it just to be on the other side of this mutation and accompanying cancer risk.
After my hysterectomy over 40 years ago, my surgeon informed me that he saved my life because my ovaries, tubes, uterus and cervix were pre-cancerous. In 2009, during my PBM post-op appointment, my surgeon explained that my left breast had precancerous changes. Once again I had dodged a huge bullet! Thank you, Judy Ludin, from the bottom of my heart for saving my life.
After my PBM, I occasionally browsed the FORCE website, read the newsletters and appreciated the work that was being done. But it wasn't until I attended the 2010 conference that FORCE became a force in my life. I had no idea of the magnitude of all the work FORCE does for people like me and the far-reaching effects it has on the BRCA community. I extend my love and gratitude to all involved with running FORCE for their dedication, hard work and love that they give to the community.