by Ryan Montoto
Racial and ethnic diversity in research is important to make sure that the results accurately reflect outcomes for people from all backgrounds. For example, participants in a research study on a new cancer drug should represent all people with the type of cancer being studied. This inclusiveness helps doctors predict how well or how poorly a drug will work for most people with a certain type of cancer. However, these research studies often fall short of this goal.
Hispanics are the second largest demographic in the United States, making up roughly 18 percent of the current population. However, only about 5 percent of the participants in important clinical trials are Hispanic and only 9 percent of medical researchers in the U.S. are Hispanic.
One of FORCE's partners, the National Alliance for Hispanic Health (The Alliance), is an organization focused on improving health equity for the Hispanic and LatinX community. As a premier, science-based and community-driven organization, its mission is: Best Health for All. The organization works to assure that the Hispanic and LatinX community is well represented in research. That's why in 2017, the Alliance was selected as one of the community partners to support the All of Us Research Program.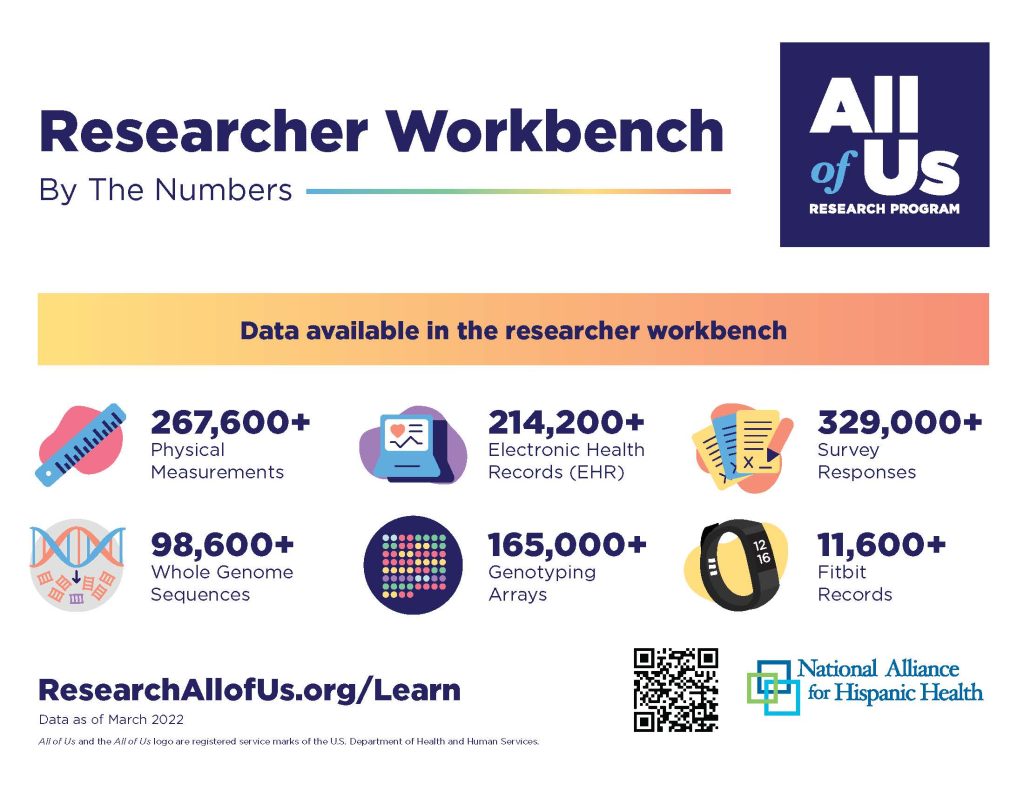 All of Us Research Program is a historic, longitudinal effort to gather data from one million or more people living in the United States to accelerate research and improve health. Funded by the National Institutes of Health (NIH) and part of the U.S. Precision Medicine Initiative, its main goal is to improve health for everyone. To achieve its broad goal, the program has committed to collecting lifestyle, socioeconomics, environment, and biology (including genetic information) from participants who accurately represent the diversity of the U.S. population.
To promote the participation of Hispanics in health research, the Alliance, in collaboration with the NIH, created Todos Juntos: All of Us Research Program a bilingual (Spanish/English) outreach initiative to leverage the infrastructure of the Alliance that focuses on reaching Hispanic communities to educate, motivate, and facilitate equitable enrollment in the program.
Often, these outreach initiatives involve connecting with potential participants through what Edgar Gil Rico, the Co-Principal Investigator of Todos Juntos, calls "trusted channels" and having local leaders deliver the message to communities. These can include community health workers (promotores de salud) local clinics, churches, and multiservice community-based organizations.
The program has done an excellent job thus far. According to Mr. Gil Rico, in just three and a half years, the program has already enrolled around 500,000 participants, and 80 percent of these come from underrepresented groups in biomedical research. One of the benefits of partnering with community-based partners is that participants can learn about the All of Us Research Program, and at the same time get support for their immediate health needs addressed by the local organization.
FORCE has been partnering with the Alliance for four years. We work together to assure that important health communications are shared with both of our constituencies. For example, the Alliance joined with FORCE to help promote the WISDOM Study—a national research study looking at ways that genetic testing can help improve risk-based screening for breast cancer—to increase participation among Hispanic and LatinX women. The Alliance, through its Nuestras Voces Network Program, provides input into our Spanish-language resources, including the adaptation of our XRAY reviews to Spanish. Through their outreach channels, they help us disseminate XRAY reviews in English and Spanish to their constituents.
If interested, please visit the National Alliance for Hispanic Health's website for more information about their important work. If you wish to participate in the All of Us study or know someone who might, you can learn more by visiting https://joinallofus.org/juntos.
Ryan Montoto is a volunteer at FORCE. He is from Miami, Florida, and of Cuban descent. Ryan studies public relations and health disparities at the University of Florida and will begin law school at the University of Florida Fredric G. Levin College of Law in fall 2022.