With every single TELETIES purchase, this generous company gives money to FORCE and the hereditary cancer community
TELETIES understands millions of people possess a genetic mutation that increases their risk for breast, ovarian, endometrial, prostate, pancreatic and colorectal cancers and that the majority of these people are unaware of their risk. TELETIES does their part every day to help FORCE pursue our mission:
FORCE improves the lives of the millions of individuals and families facing hereditary breast, ovarian, pancreatic, prostate, colorectal and endometrial cancers. Our community includes people with a BRCA, ATM, PALB2, CHEK2, PTEN or other inherited gene mutation and those diagnosed with Lynch syndrome. We accomplish this through our education, support, advocacy and research efforts.
For TELETIES it's Personal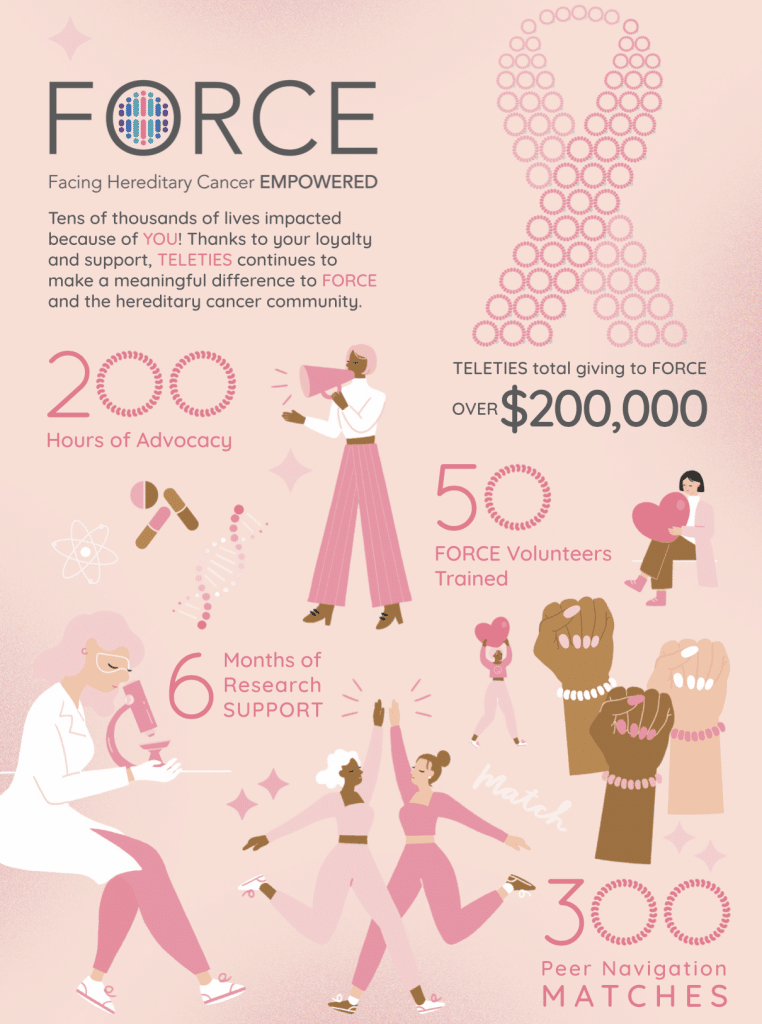 TELETIES founder, Lindsay Muscato, knows firsthand how important non-profit organizations like FORCE can be in providing resources to those who need them. She was tested at a young age because her father carries a BRCA1 mutation and thankfully tested negative. Having never met her grandmother, who passed away from hereditary breast cancer at the age of 36, Lindsay promised herself she would do her part to help educate and serve others facing hereditary cancer.
Thousands of Lives Helped
Tens of thousands of lives have been impacted because of TELETIES' dedication to the hereditary cancer community. Over the last few years, they have donated more than $200,000 and allowed us to provide:
300 peer navigation matches
200 hours of advocacy
50 volunteers trained
6 months of research support
Our partnership with TELETIES has been a true gift. TELETIES is proof that one company can positively impact millions of lives. We thank TELETIES for all they have done and continue to do for FORCE and hope that you will learn more about their products and their mission by visiting www.teleties.com.