by Shannon Pulaski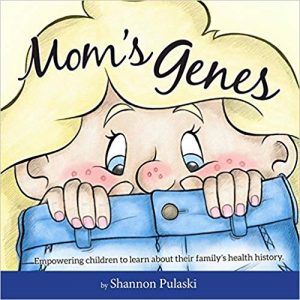 Ten days into my journey into parenthood, my own mother was diagnosed with ovarian cancer.  It shook my family's entire world.  And when the earthquake settled, we realized we were only just beginning to understand our new reality.  We were fortunate that her doctor knew to test her for the BRCA gene.  But, at the same time not so lucky because she carried the genetic mutation.
When my twin daughters were twelve months old, I decided to see a genetic counselor.  Although, for me, I didn't really feel like I had a choice.  It felt like something I had to do – for them. My genetic counselor spent a lot of time outlining my family history.  That exercise forced me to learn more about our family than I ever knew.  With an extensive history of hereditary cancer, my genetic counselor selected a test and explained my risk for developing certain cancers if I also carried the gene mutation that seemed to be running rampant in our family tree.  When my results came in, I took one look at my genetic counselor's face and knew immediately that I am BRCA1-positive.
As a result of that test, I have had to make a lot of decisions that have and will continue to impact not only me but my entire family.  In the beginning of my journey, my children were small.  My husband and I could move through those decisions and the kids were blissfully unaware.  But, now they are a bit older.  And my family health history continues to play a role in my own family's story. My family has many more BRCA obstacles yet to come. There is no doubt that my daughters and my son will have questions.  It became clear that we would need to have conversation.  But, it was also clear that it had to be handled with care.
And so I wrote Mom's Genes based on the idea that parents could benefit from tools that could help them start a conversation with their children about family health history.  Intended for children ages 3 – 7, this first installment will assist parents and as a stepping stone for young ones to easily grasp sophisticated concepts in an interactive and playful manner.  With age appropriate content, rhythm verse and vivid illustrations, Mom's Genes can help you teach your children the importance of being proactive about their health and wellness at a young age.   As genetic information and testing becomes more readily available, it will have a tremendous impact on medical decisions going forward.  Parents will need to consider how to effectively share this information with their children as it will play a role in both their own lives as well as their children's lives.  My hope is that Mom's Genes will help get parents started talking about their family's health history.
Shannon Pulaski is an attorney, author, avid patient advocate, wife, and mother of three. With a strong family history of cancer, Shannon knew she would have to start a conversation with her children about their family's health history. She created Mom's Genes to help other parents share their own family's health history and encourage children to establish healthy lifestyle behaviors at a young age. Mom's Genes is available for purchase now on Amazon.