by Piri Welcsh, PhD and Sue Friedman, DVM
When making medical decisions, getting information right is more important than getting it fast. This is especially true for our community, when results of a genetic test or a breast biopsy can add a sense of urgency to medical decision-making. But finding factual data or input—help, not hype—is not always easy in our world where new information is delivered in real time, but with questionable accuracy. This is why FORCE created our XRAY Program.
Slow and methodical science
Generating scientific proof requires years of research using rigorous and proven methods, a process that can be repetitive, incremental and slow. Each new finding is scrutinized and repeated to ensure that it is real and not due to chance. Once the research is completed and the results are written, most scientific journals require manuscripts to undergo peer review prior to publication. (Publishing criteria varies among scientific journals, so it's important to check the source of published research articles when reading media reports.) During this process, other scientists in the same field critically analyze how experiments were conducted and how data was analyzed and interpreted. The completion of scientific studies virtually guarantees that more questions will be raised than answered; these new questions then lead to follow-up questions.
Trending tops truths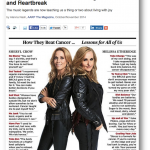 Superimposed on the slow research process is the rapid-fire pace of the mainstream media. Publishers, editors and journalists know that "science doesn't always sell." Hungry for sensational stories and breakthroughs, the media sometimes eschews scientific accuracy in favor of news-grabbing headlines. This may explain why so many articles with sensational headlines don't match the research findings that they report. It might also explain the numerous articles that quote the opinions of celebrities who have been diagnosed with cancer as though they are experts in the field.
Media outlets compete for the attention that comes with controversy and debate. So many media stories focus on poorly-substantiated claims—right or wrong—about everyday items that allegedly cause cancer. Deodorant, bras, chips, tomatoes and even Facebook have at times been claimed to increase your chances of developing cancer. This hype can attract broader attention than articles on cigarettes and UV exposure—two very well-studied and proven cancer-causing agents that don't get as much attention as "fake" or inaccurate claims.
Current events show how important it is to distinguish Internet fact from fiction. Clicks are the new currency; when people are paid to drive visitors through their websites, attracting traffic becomes more important than content. This behavior drives inaccuracies and sensationalism. So, it is more important than ever for consumers to be able to distinguish between proven and unproven statements.
Scientists can help alleviate the problem. NIH Director Francis Collins has said that all scientists should be ready to explain their work to anyone who asks about it. "The job we all have is to be prepared at any moment to explain what we do and why it matters," he said1.
That goal speaks for itself, yet we know from surveys of our community that research reports written by scientists are largely undecipherable to lay audiences.
XRAY: Why accuracy matters
At FORCE, we often observe that people factor media reports of medical research into their health care decisions, which is the reason we created XRAY. We know that consumers cannot all be experts on every topic, so having a reliable source for rating health information in the media is invaluable.
We began XRAY by surveying young women with breast cancer and young, high-risk women. Our aim was to learn how they used media information to help make their health care decisions about breast cancer treatment, risk or prevention, and to identify their unmet information needs. Many respondents reported that they frequently used the media to understand issues and make medical decisions2.
XRAY helps young women with a diagnosis or an elevated risk of breast cancer to understand what new research findings reported in the media mean for them. Each XRAY posting on the FORCE website includes a relevance meter and a summary of the key findings of the research. Reports include questions for your health care provider and more detailed information and resources about the topic being covered. Most importantly, by separating fact from fiction, XRAY looks behind the headlines to provide our community with reliable and accurate information about research studies and their conclusions.
References
"Francis Collins: Scientists must engage with the world: In Compton Lecture, NIH director details the importance of reaching out to others." MIT News. October 29, 2014.
Lisa F Rezende, Julie Huynh, Karen Kramer, Melissa Cranmer, Lisa Schlager, Robin Pugh-Yi, Craig Dearfield, and Susan Friedman. XRAYS (eXamining Relevance of Articles to Young Survivors) Program Survey of Information Needs and Media Use by Young Breast Cancer Survivors and Young Women at High Risk for Breast Cancer. Poster Presentation at the 2015 Annual San Antonio Breast Cancer Symposium, San Antonio, TX , December 8-12, 2015.