by Lisa Schlager
As FORCE celebrates its 20th birthday, I too am commemorating a milestone. It has been 20 years since I underwent genetic testing and learned that I carry a BRCA1 mutation. Some might look back at that fateful day and feel a sense of dread or sadness. I definitely experienced these and other emotions, but I had the benefit of working with a genetic counselor who imparted knowledge and compassion, and helped me feel that I was equipped to manage the journey ahead. I had a very positive (no pun intended) genetic testing experience, which is why I am so troubled by the growth of unscrupulous practices in the genetic testing industry. This fraud alert, recently issued by the Office of Inspector General (OIG), provides a limited snapshot of the problems we have seen over the past year.
A Look Back
BRCA testing was relatively new when I tested in 1999. I pursued testing after my paternal aunt learned that she carried a BRCA1 mutation. Recently diagnosed with breast cancer, she opted to participate in a research study exploring the prevalence of BRCA mutations in people of Ashkenazi Jewish descent. After testing positive for the same mutation she had, I was told that I should keep information about my mutation out of my medical records because it might be used against me and impact my eligibility for health insurance. This is no longer a concern thanks to the Genetic Information Nondiscrimination Act of 2008 (GINA) and the Affordable Care Act (ACA). The evolution in genetics over the past two decades has been tremendous, but not all of it has been positive. As Vice President of Public Policy for FORCE, I am often involved in the progress and pitfalls firsthand.
Current Landscape
Last fall, a concerned member of our community alerted us to the aggressive marketing tactics of representatives at a community fair in Florida who were offering genetic testing "at no cost to you." Our follow-up research revealed the name of the company, which is among the companies identified in news articles about genetic test fraud. Shortly thereafter, FORCE began receiving inquiries about genetic test coverage policies and the legitimacy of certain companies that recruit marketing representatives and "health advocates" to sell cancer genetic tests to the public, often targeting the Medicare population. The vast majority of these salespeople and "advocates" have no medical background and little or no training in genetics.
Contrary to most health insurance policies, these businesses claim that the broad genetic test panels they offer are "free" to people who have certain health insurance coverage. While BRCA genetic counseling and testing is considered an essential health benefit for specific women under the Affordable Care Act, the panel tests for hereditary cancer genes (CGX) and pharmacogenetic tests (PGX) offered by these companies are rarely covered at 100%—if they are covered at all.  Importantly, the ACA BRCA testing requirement does not apply to Medicare or Medicaid. In fact, a new Medicare policy severely restricts genetic testing for hereditary cancer mutations. In most cases, it only covers testing for people with "recurrent, relapsed, refractory, metastatic, or advanced stage III or IV cancer" who seek additional treatment. Even before this policy took effect, Medicare rarely covered multigene panel testing for survivors—it has never covered genetic testing for previvors (those with a strong predisposition to cancer due to family history or other factors, but who have not been diagnosed with cancer).
The inquiries FORCE receives about these questionable businesses continue, and the number of companies and concerns are growing. In May, we filed a 50-page complaint with the Federal Trade Commission (FTC) and Office of Inspector General (OIG). State attorneys general have also been engaged. Yet, many of these unscrupulous and misleading businesses continue to operate. They:
take advantage of people by misinforming them about their need and eligibility for hereditary cancer genetic testing;
provide a medical service without the expertise of qualified health care providers;
commit fraud by stealing personal information and/or billing insurers for services not provided;
mock the very serious issues around genetic testing and carrying an inherited mutation associated with increased risk of cancer.
Call
to Action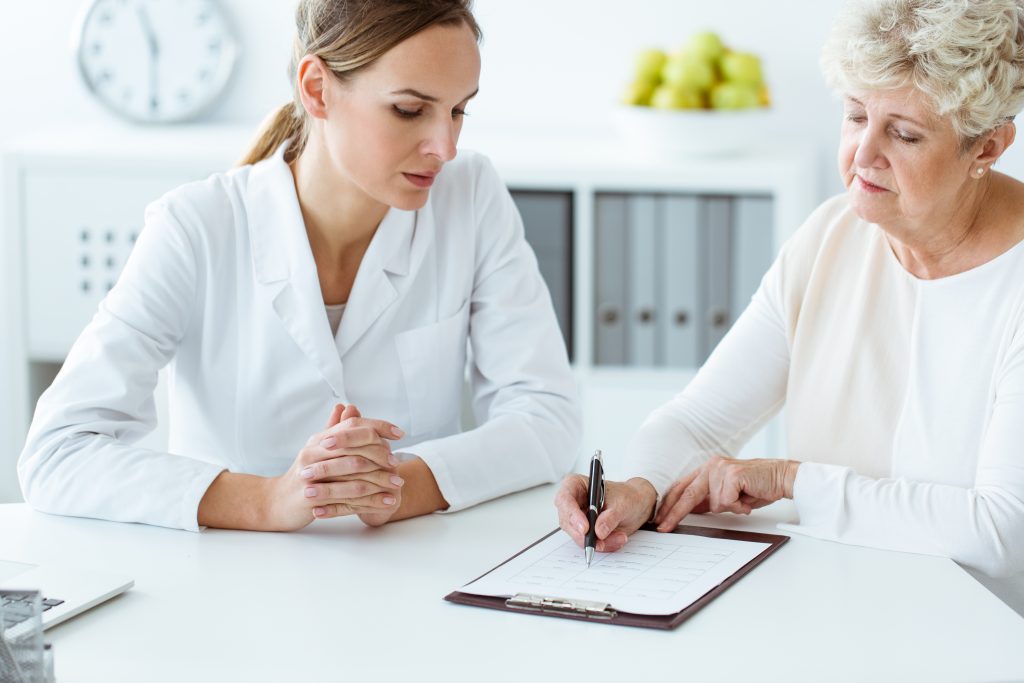 While not everyone has the first-rate genetic counseling experience that I had, every person benefits from meeting with a qualified health care professional who has his or her best interests at heart. Former teachers, pyramid marketing representatives, and insurance salespeople (talk about a conflict of interest!) should not be involved in genetic testing—even if it is just taking a cheek swab. Too much rides on the results of these tests. So please, talk to your family members, friends, and neighbors. Warn them about the bad actors and fraud that is taking place. If they are interested in genetic testing, encourage them to seek out trustworthy medical professionals who provide guidance and expertise. The best place to start is a primary care doctor, OB/GYN, or oncologist. Alternatively, the FORCE website has information on how to find a cancer genetics specialist.
Be sure to check the Advocacy section of the FORCE website for important updates on this and other issues.