by Ryan Montoto
Sharsheret is a national Jewish nonprofit with the goal of supporting those who face breast or ovarian cancer. One in 40 Ashkenazi Jewish people has a BRCA gene mutation, which is associated with an increased risk of developing these cancers.
Every day, Sharsheret lives by the motto "Wherever you go, I will go."
This motto, Sharsheret's Chief Services Officer Adina Fleischmann, MSW, LSW, OSW-C, explains, ties into Sharsheret's outreach efforts, which are varied. The nonprofit is willing to work with anyone who reaches out, including people with no connection to Judaism. Sharsheret uses social media to share stories, statistics and other information with the masses. It works directly with healthcare professionals and presents to future healthcare professionals at universities, specifically on the cancer-related risks Jewish women can face. The nonprofit also presents webinars about once a week, including topics like Sharsheret in the Kitchen and medical updates.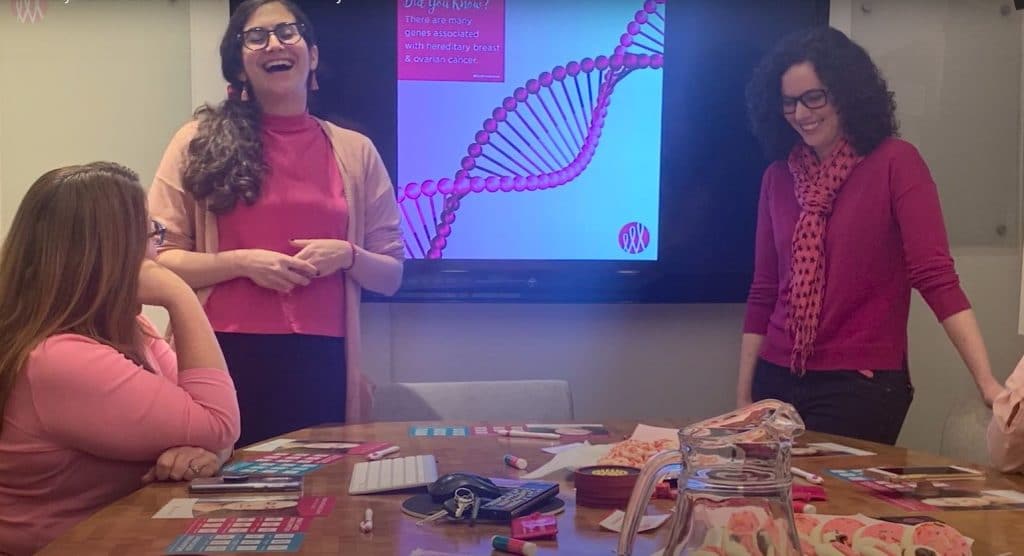 Sharsheret's callers may be connected to trained peer supporters. They are able to connect callers based on diagnosis, treatment protocols, type of hereditary mutation, as well as marital status and religious practice. Callers might also choose to connect with other women through Sharsheret's private Facebook groups.
Peggy Cottrell, MS, CGC, Sharsheret's Genetics Program Manager, is in charge of the Genetics for Life program.  She frequently consults with women and families about their family history of cancer.  She can help people determine if they are eligible for genetic testing, and give options about how to pursue it.  She helps people clarify issues about high risk screening vs. risk reducing mastectomy, timing of surgery, reproductive choices, and talking to children or other family members about the family mutation.  She provides information about other hereditary mutations outside of BRCA1 and BRCA2.  While Sharsheret doesn't give medical advice, Peggy can clarify the options included in national guidelines. 
Sharsheret's Embrace Program focuses on meeting the needs of women with metastatic breast cancer. When someone signs up for the program, they receive the following benefits:  one on one support from a social worker, a metastatic cancer packet and a stage 4 survivorship kit.  Callers may also appreciate the private Facebook group specifically for those with metastatic breast or ovarian cancer. Sharsheret and FORCE have worked closely over the past decade. Sharsheret was one of FORCE's original partners, helping us create and promote our XRAY program. In 2021, FORCE partnered with Sharsheret for BRCA Hereditary Cancer and Men Series, videos that touch on some of the real yet often untold stories of how inherited gene mutations affect men. These stories include those of a woman diagnosed with breast cancer while pregnant, not realizing she had inherited a mutation from her father because of the minimal family history.  The others tell the stories of men with prostate cancer and male breast cancer.
Ryan Montoto is a FORCE volunteer who is studying health disparities at the University of Florida.