by Lisa Rezende, PhD and Sue Friedman
Everything we know and will learn in the future about hereditary cancer risks, screening, and treatment comes from years of scientific research and the direct participation of thousands of volunteers. Finding and enrolling in research studies gives us the ability to directly improve health care and to help scientists discover better ways to prevent and detect cancer, extend survival, and improve quality of life for ourselves and future generations.
Cancer is common. Hereditary cancers are different from 'sporadic' cancers, requiring different screening, prevention, and treatment methods and different approaches to research. Many research studies are open and need patient participation. But hereditary cancer patients make up a small subset of all cancer patients, and hereditary cancer research studies are a small part of all cancer research. For every study looking specifically at HBOC cancers, hundreds of other studies exist that are open to any and all cancer patients. These less specific studies draw from the pool of hereditary cancer patients, leaving fewer possible participants for studies that are designed for people with hereditary cancer.
Clinical trials are like puzzles that need to be completed, and patients make up the puzzle pieces.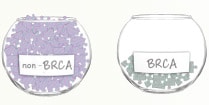 About 18% of ovarian cancers are caused by a BRCA mutation. A recent search on clinicaltrials.gov — the governmentmaintained database for research enrolling patients'showed that out of 60 advanced ovarian cancer treatment studies in the United States, only 8 specifically targeted patients with BRCA mutations.
More general advanced ovarian cancer clinical trials draw from women with and without BRCA mutations.
This leaves fewer BRCA mutation carriers available to participate and complete studies that are specifically designed for mutation carriers. This predicament is also true for breast and other hereditary cancers and cancer-causing mutations.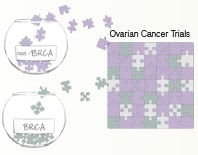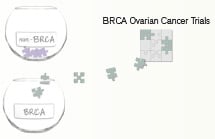 Understanding how to find studies and volunteer for research participation is equally challenging. You may hear about a trial going at the medical center where you receive your care, but is that study the best fit for you? Will it resolve questions that you and your family want answered about hereditary cancer?
FORCE is committed to making research enrollment as easy as possible for our community. We have developed a research and clinical trial search tool (facingourrisk. org/researchtool) that helps to match people facing hereditary cancer with research studies that are specifically designed to understand hereditary cancer. The database includes studies on breast, ovarian, fallopian tube, prostate, melanoma, and pancreatic cancers. Studies can be searched by region, cancer site, phase of research, and trial type (prevention, detection, treatment, and quality of life). We will be updating the tool regularly, so please keep checking for new studies in your area.