How BRCA Changed Our Lives and Why We Want to Change Yours
by Katie Kickel Hernandez
In October 2017, I was diagnosed with breast cancer after a routine mammogram found three irregular spots that were the size of grains of sand. A biopsy revealed stage 0 breast cancer, and initially, a lumpectomy and radiation were recommended. My paternal aunt had died of ovarian cancer, and when I questioned the breast surgeon on a possible link, he belittled the importance of this information. That's when I decided I needed a second opinion, and fortunately, the next physician asked if there were any breast or ovarian cancers in my family history. Genetic testing was ordered and a few weeks later, the day before my sister Colleen's wedding, I found out that I had indeed tested positive for the BRCA1 mutation. As a result, the path of my treatment shifted from a lumpectomy and radiation to a bilateral mastectomy (with immediate reconstruction) and bilateral salpingo-oophorectomy. In December 2017, I underwent a seven-hour surgery to rid my body of breast cancer and drastically reduce my risk of developing ovarian cancer. 
Fast forward a couple of years: Colleen, now married and with a baby, decided it was the right time to be tested for the BRCA mutation. By then, it was known that our dad was the carrier, with a 50 percent chance of passing it to each of his children. Unfortunately, those odds were not in Colleen's favor, and just like me, genetic testing revealed that she also carries the BRCA1 mutation. Due to our aunt's diagnosis of ovarian cancer at a young age and the current lack of adequate screening to detect ovarian cancer, Colleen opted to have a hysterectomy before a double mastectomy. In March 2020, she checked into the hospital for her preventive hysterectomy and returned to work within a week. Two weeks later, at her follow-up appointment, Colleen was hoping to be cleared to exercise. Instead, she heard the dreaded words, "Now, we need to talk about your pathology." The specialized pathology test that was done because of her BRCA mutation found stage I ovarian cancer. Because of poor screening options, only 10 percent of ovarian cancers are diagnosed at this stage; most cases aren't detected until they are more advanced. Colleen began chemotherapy, and then in October 2020, she underwent a preventive double mastectomy and reconstruction. The surgery was successful, and no cancer was found—news she received while she was healing at home with her husband and me by her side.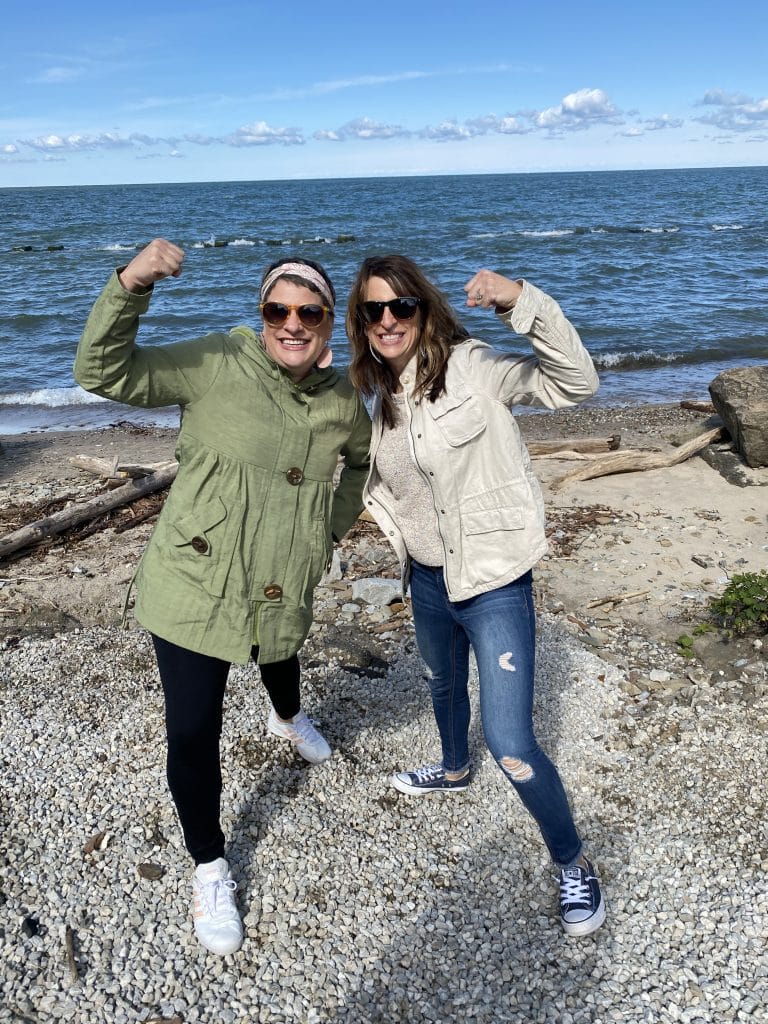 We decided to share our stories to help raise awareness and funding for genetic testing since it saved both of our lives! We started a non-profit organization called K.I.C.K. (Knowledge is Cancer's Kryptonite), a play on our last name, and found an equally passionate partner in JScreen, a national non-profit initiative committed to creating comprehensive and accessible genetic testing and counseling for BRCA and 60 other cancer genes. We have been funding no-cost testing for people who have family histories of cancer. The beauty of JScreen is the at-home model, which provides testing with a spit kit and genetic counseling via telehealth. Genetic counseling is an essential step in the process so a person can understand their results and options for medical management. All of the cancer genes screened have actionable next steps, with the goal of early detection or prevention of cancer.
Colleen and I have already saved multiple lives through our JScreen collaboration. One example is a woman whose daughter tested positive for BRCA2. The woman used the testing provided by K.I.C.K. and learned she not only has a BRCA2 mutation but an APC mutation as well, increasing her risk for colorectal cancer. These findings led many other of her family members to undergo testing and be proactive about their risk for hereditary cancer. The power that one saliva test can have on people's lives is staggering.
Do yourself a favor and take your health and that of your family into your hands now and get tested. If not, Colleen and I will K.I.C.K. your butt before cancer does!
Use code KICKWITHFORCE for cancer genetic testing with no out-of-pocket cost* at JScreen.org.
*If you provide your insurance information, you will have no out-of-pocket costs regardless of benefits or deductibles. This special promotion is available while funding lasts.
Katie Hernandez lives in Maryland with her husband and two sons.
Colleen Greller lives in Cleveland with her husband and son.