by Ellyn Davidson
"Your daughter will never go through what you went through."
That simple statement had a profound impact on me. Words I will never forget and words which fuel my passion and energy into an organization that has changed the face of hereditary cancer.
I was 36 when I was diagnosed with Stage II Breast Cancer. I was a mom of three children—Lacey, 7, Brett, 5, and Seth, 1—with a thriving career. Cancer didn't care about me or my family.
I was thrust, like many of you, into the world of cancer treatment—doctor's appointments, tests, surgeries and more doctors. At the time, I was focused on getting through treatment, spending time with my kids and making sure they were ok throughout the nine months I spent beating this disease. (They did just fine BTW.) During my recovery, I became an outreach coordinator for FORCE, and I loved the help I could provide to people. At the same time, I was also focused on raising money for a different cancer organization.
Fast forward seven years to my yearly post cancer check-up with my oncologist and things had changed. My oldest was well into her teens. I was chatting breezily with my doctor as he conducted my exam. We talked about the progress and changes in hereditary cancer since my diagnosis, the awareness, the additional drugs available, the research, the testing. I knew, in my heart, that all of this progress would make a difference for my daughter but hearing those words spoken from a man I'd grown to admire and trust with my life struck a chord deep inside of me.
That's when I decided to devote more to FORCE. I'd spent the previous seven years admiring the work that the team at FORCE had accomplished. I watched proudly as they fought for our rights and protected us through their amazing advocacy work. I watched them help to fill clinical trials with members of our community to ensure that newer and better drugs could come to market. And I watched as they developed programs to support men and women of all ages as they dealt with the blow of a cancer diagnosis or the realization of a gene mutation.
I was blown away at the work of this team but I was no longer content sitting back and watching. I was eager to participate. I joined the board and for the past two and a half years, I've had the distinct pleasure of serving as the president.
The work FORCE does is making a difference in the lives of every person impacted by hereditary cancer. Like many non-profit organizations, FORCE has a very small budget for the level of impact we have in the community. We rely on the generosity of donors, peer-to-peer fundraising and grants to support our mission.
I am so thankful to all of you for supporting this organization, for the team that works day in and day out on our behalf and most importantly to Sue Friedman who decided in 1999 that no one should face hereditary cancer alone.  Mostly, I'm grateful that my daughter Lacey will never, ever have to go through what I did.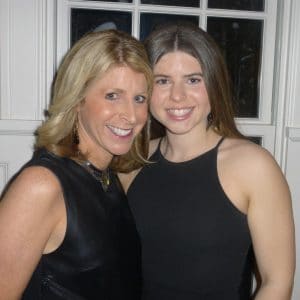 Ellyn Davidson was 36, the mother of a toddler, a Kindergartner and second-grader when she was diagnosed with breast cancer. Now a ten-year survivor, Ellyn is an active breast cancer fundraiser, Board President of FORCE and the new owner of Brogan & Partners, an advertising and marketing communications agency based out of Birmingham, MI.