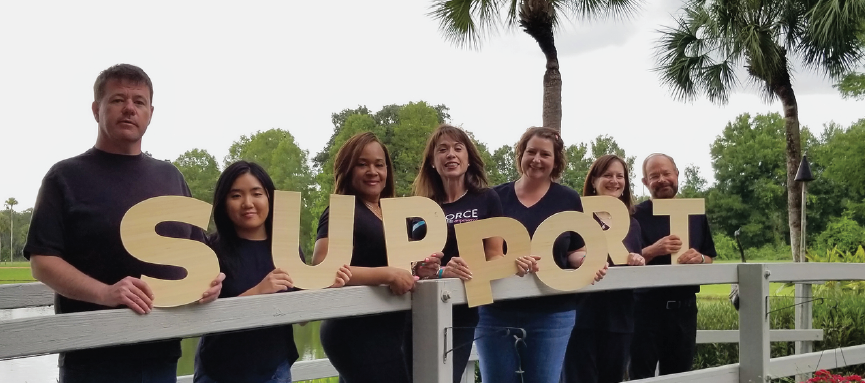 On New Year's Day, FORCE celebrated our 20th Anniversary! It is a great milestone, and we have accomplished so much along the way. Over the coming year, we will share articles about key accomplishments in each of our pillars: support, advocacy, research and education.
FORCE was founded in 1999 as a support organization. Our first program was our message boards. In those early days of genetic testing for BRCA, FORCE was the first organization focused on the hereditary cancer community. Over 20 years, thousands of people have visited our message boards, posting more than 300,000 messages about all aspects of the hereditary cancer experience. In honor of our 20th year, we recently launched our new, improved message boards with upgraded features that included private messaging and a mobile app. The collective wisdom of more than 15 years of message board posts is still available on our message board archives.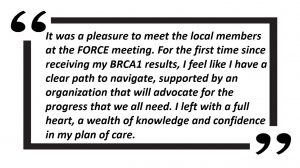 In 2000, we were also the first organization to acknowledge and validate the unique and unmet needs of people without cancer who tested positive for an inherited mutation. FORCE coined the term "cancer previvor" and championed more support, research, advocacy and resources for this important group of stakeholders. At the time, the prevailing term for previvors was "unaffected carriers"—individuals who didn't have cancer, although they had very high risk for it. They were often dismissed in cancer support chats because they were undiagnosed, despite the fact that many of them had watched multiple family members struggle with cancer (and too often lose that struggle). Previvors have serious medical considerations different from their average risk peers, and they face difficult decisions about risk-reducing surgery or medication. Today, a Google search of the word "previvor" returns 63,500 results, a testament to our success in uniting and supporting this important stakeholder population.
In 2003, we launched our first volunteer program – our toll-free helpline – with a small team of 20 volunteers. that received rave reviews and  staffed by 20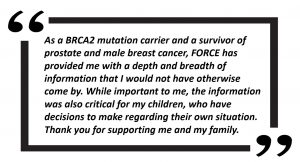 volunteers. Since then, our volunteer programs have expanded to over 290 volunteers, providing in-person peer support through local get-togethers, email, and one-to-one personalized support through our Peer Navigation Program. Since 2016, we have matched 2,150 users, including survivors, previvors and caregivers—by age, mutation, cancer type/risk, and situation—to compassionate, well-trained volunteers who provide support and a personalized resource guide. In addition, we now have local volunteers, including genetic experts, available to provide support in 39 states. We plan to expand coverage to all 50 states by 2020.
These days, no one has to face hereditary cancer alone. Thanks to FORCE, our dedicated volunteers, and our amazing and connected community! If you are interested in joining our volunteer team and paying it forward, learn about our available volunteer positions today.