by Patricia Anstett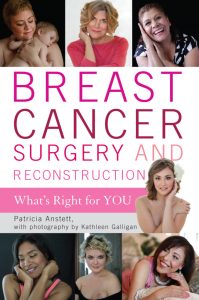 Everyone asks: Why write another book about breast cancer? Well, turns out surgery and reconstruction options continue to be far less discussed and understood. Many women are so stunned by their breast cancer diagnosis they don't take the time to ask for more information. And they look hard. There just aren't a lot of credible books on the subject and none like ours that provide real stories of women facing these decisions.
This book is the result of three years of reporting across the country to talk to women and doctors and to watch procedures. More than 300 people contributed to a national giving campaign to fund reporting and photography for the book.
Women today have better options to create new breasts after surgery for cancer or to prevent it. But most don't emerge with new breasts and nipples in a single operation. It may take a year, even much longer, to finish the job.
Women face potential complications every step along the way. Some never complete the work. Women who choose to remain flat may face pressure to consider reconstruction from families, friends and doctors, especially if they are young. Even finding the right breast cancer team — a breast and plastic surgeon — who present all options fairly or who accept your health insurance can be tough.
BCsurgerystories.com and our book, "Breast Cancer Surgery & Reconstruction: What's Right for You," reframe the important discussion about lumpectomy, mastectomy and breast reconstruction around the women who have had these operations.
The book was written by long-time medical writer Patricia Anstett who spent a 40-year newspaper career covering women's health issues, including breast cancer. Now, she spends her time reporting on #breastcancer surgery and #breastreconstruction choices. With photography of women eloquently captured by Kathleen Galligan, a two-time Emmy-award-winning photographer, the book offers womens' unique viewpoints about the less-discussed but essential part of breast cancer: the surgery nearly every woman has, regardless of whether she has reconstruction or not. Three months after Galligan began on the project, she was diagnosed with breast cancer. Her story anchors one of the chapters in the book.