Genetic Counselor Katie Stoll hoped she wouldn't have to give a positive result when she met with Nikki McCoy , a 37-year-old patient who had history of a BRCA1 mutation on her paternal side.  Of course, Katie and other genetic counselors never want to give a positive result, and when they do they do not expect to develop a professional collaboration with the patient.  Nikki did end up receiving a positive result—one that would require the common heart-wrenching decisions of screenings, talking to family, and risk-reducing surgeries.
But for Katie and Nikki, the relationship didn't end with surgeon referrals and reading materials. They quickly realized they had much in common, and a mutual need. Nikki had a background in marketing and communications, and the nonprofit where Katie is the executive director, Genetic Support Foundation, was ready to ramp up some outreach efforts. They decided to join forces and their friendship and professional relationship grew as they worked to tell stories and spread the word about hereditary cancer risk and the benefits of genetic counseling.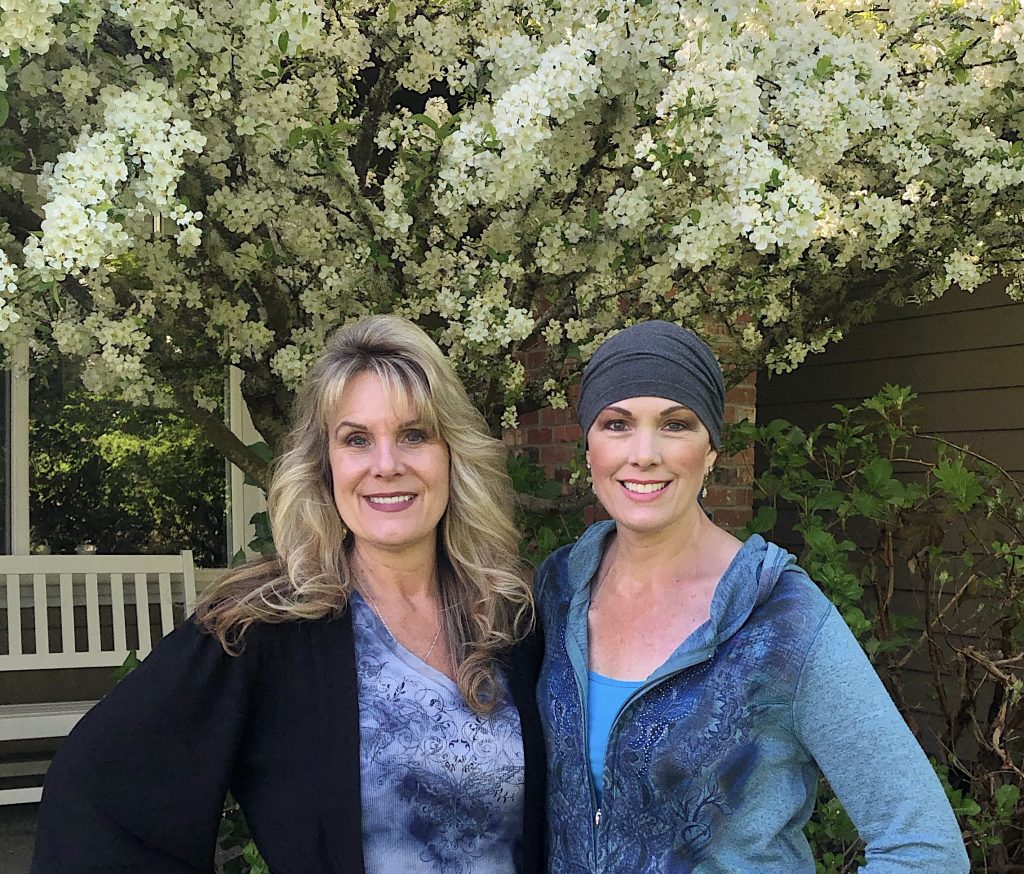 "I felt compelled to help not only in a professional capacity, but as a patient—it brought a whole new perspective," says Nikki.
Alongside the social media posts, clinic outreach, and blog-writing, Nikki decided to move forward with risk-reducing surgeries including removal of ovaries, fallopian tubes, and uterus, as well mastectomy with reconstruction. These surgeries drastically reduced her risk of developing the breast and ovarian cancers that had affected women on her father's side of the family. The men in her family suffered from pancreatic and prostate cancers, something Nikki will be acutely aware of as she continues her care and raises two sons.
A few months later, Katie had another patient, 46-year-old Janet Shimabukuro, who had a recent diagnosis of breast cancer. The two women worked through Janet's extensive family tree, and Janet's genetic test results came in positive for a BRCA2 mutation, a finding that would ultimately help Janet's sister, Eileen, catch breast cancer early. Eileen also tested positive for the BRCA2 mutation and her breast cancer was detected on her first breast MRI, a finding that a recent mammogram had missed. Eileen and Janet ended up with breast surgery scheduled on the same day, recovering in a room together doing COVID, when other visitors were not allowed. Both women are now doing great and chose to reduce their risk of ovarian cancer through preventative surgery as well.
"I knew that I would need to share this info not just with my family, but as far and wide as possible," says Janet. "The men in my family had prostate cancer—I simply did not know there was a relationship between prostate and breast cancers, and I feel called to spread awareness."
Katie had a hunch that there might benefit to connecting Nikki with Janet and Eileen. In an early meeting, they shared laughs and tears, and most importantly—hope and the desire to help others through this process.
Meanwhile, Katie's hopes of launching an in-person support group for hereditary cancer risk was increasingly dwindling due to COVID-19, but she still felt strongly about connecting more patients like Janet, Eileen, and Nikki. So, she got creative and enlisted the help of a local video production company to help tell the women's stories.
"Hearing Janet's, Nikki's, and Eileen's stories was eye opening," shares Riley Gibson, producer. "I had no idea just how influential genetics was in certain cancers. There's freedom in that knowledge. It takes the randomness away. Through better understanding of this terrible disease, these women chose their own path. Their strength is inspiring and should be shared."
The video is now up on YouTube and the Genetic Support Foundation's website. It features Nikki, Janet, Eileen, and Janet and Eileen's Uncle Werner. Everyone involved in the making of the video hopes to save lives and to inspire others to share their story.
For more information please visit: https://geneticsupportfoundation.org/cancer-genetics/