by Lisa Rezende, PhD
When my mom was first diagnosed with ovarian cancer at the age of 55 in 2001, there were many reasons why she didn't pursue genetic testing.
National guidelines didn't automatically recommend genetic counseling and/or testing.
My family history was limited. While my grandmother had breast cancer, she was diagnosed after menopause, and the rest of her family history was not clear.
Back then, testing costs were high and not always covered by insurance.
Her diagnosis came before the passage of the Genetic Information Nondiscrimination Act (GINA) and my mom had privacy concerns and fear of what testing would mean for her insurance premiums.
Three big events changed her view on testing. In 2006 my mom experienced a recurrence of her ovarian cancer and began seeing her oncologist regularly. At age 32 my sister's gynecologist suggested she consider a risk-reducing oophorectomy. And my midwife referred me to a gynecologist oncologist to discuss my own ovarian cancer risks.
My family had talked about the possibility of testing on and off for a few years. But now my sister and I were being given medical advice based on our mom's cancer. We needed more information about our own risks.
My sister and I decided to ask our mother to again consider genetic counseling and testing. Once it was clear that her genetic test results would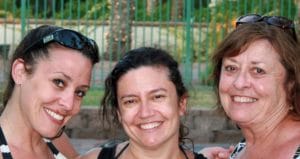 directly affect her daughters' care, my mother was happy to look into it. At her next appointment, her oncologist referred her to a genetic counselor.
I still remember receiving the phone call in February 2008, letting me know that my mother had tested positive for the BRCA1 gene mutation. I quickly scheduled an appointment with a genetic counselor. My positive test results led me to undergo a mastectomy and surgery to remove my ovaries and fallopian tubes a couple of years later. As for my sister, her negative test result meant she no longer had to discuss removing her ovaries. My mother also chose risk-reducing mastectomies as well.
We have been fortunate. Today my mother is a 16-year ovarian cancer survivor. I was able to have surgeries before I had cancer. And my sister was able to avoid surgery.
Thank goodness my sister waited on surgery in order to get more information. We were lucky that my mom was alive to get the test first, so we know my sister's test result is a "true negative." This means her breast and ovarian cancer risk is the same as an average person.
I'm grateful my mom decided to have genetic testing. She did it for us and it really did change our care. It's empowering to be able to have that information and make the best decisions for your health.