by Anya Karavanov, PhD
Cancer is not an easy topic for anyone in any circumstance. But conversations about cancers that run in the family can be particularly hard. Hereditary cancer is caused by genetic mutations that are passed down in families, so learning your risk and taking action to prevent cancer requires frank conversations with people other than your doctor – namely, your family members. Just a few challenges people might face when having these conversations:
Reluctance of certain family members to discuss cancer or personal health
Fear of conversations or tests that might ultimately lead to bad news
Lack of understanding of how one family member's health might impact another's
Guilt felt by older family members who have already had cancer and fear they may pass it on
Cultural norms within some communities that discourage talking about bad things that might happen
Desire to push this type of conversation further into the future and not worry about it today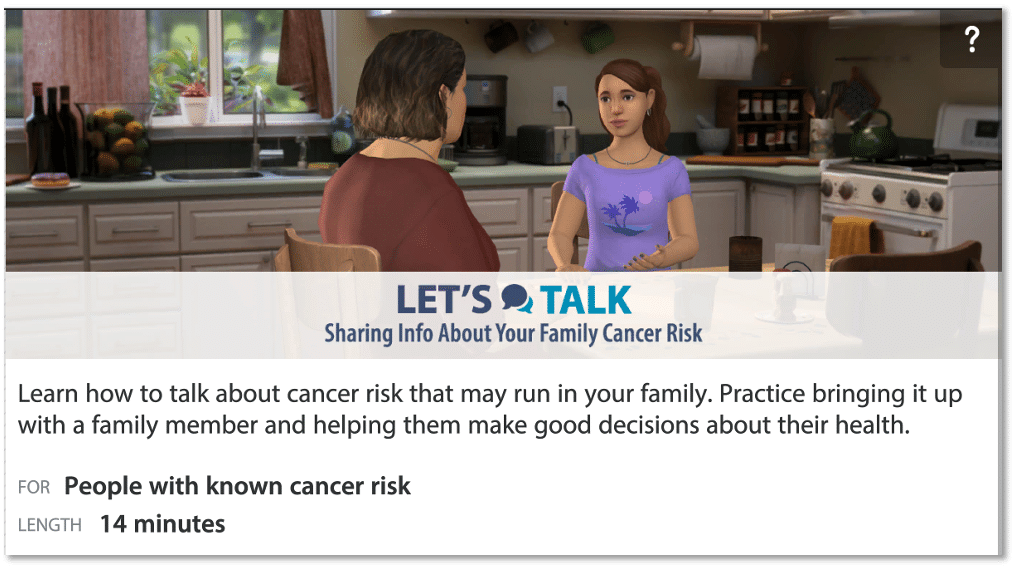 Practice makes it easier
I am proud to have contributed to an innovative tool called "Let's Talk," which helps families discuss hereditary cancer. It is an online conversation simulation that models how to start, navigate, respond, and handle different discussions around this sensitive topic. You can follow a mother and her teenage daughter as they are guided by a virtual coach through a series of discussion paths, gaining tips along the way on how to:
be positive as you share small chunks of information.
stop to see how the other person is doing and express empathy.
help the other person understand what they can do next and respect their decisions.
Although the tool focuses on a conversation between a mother and daughter about a BRCA mutation in the family, the tool is relevant and can help people practice these conversations even if their family mutation is in a different gene.
Talking is the first step toward protecting yourself and your loved ones
Whether the conversation about hereditary cancer is difficult for you on a personal level or difficult for your family members, stay focused on the fact that knowledge can save lives. When people understand their risk of cancer, they can make more informed health decisions.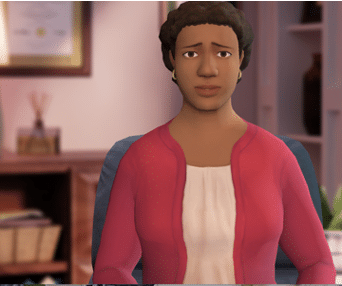 If you'd like to see how other families have approached conversations, challenges, and emotions, and decisions related to hereditary cancer, you can visit the FORCE website. FORCE is a nonprofit organization focused on people and families facing hereditary cancer. Their brochure, The Genes Between Us, provides guidance for telling relatives about the mutation in the family. The FORCE website also has a section devoted to sharing information with family. I also highly recommend the "Bring Your Brave" video storytelling series produced by the CDC and Story Center. More than 20 brave women have shared their stories to spark better, more productive conversations about this potentially life-saving topic.
Dr. Karavanov specializes in creating and implementing social change communication campaigns for government agencies, nonprofits, and private foundations. She has helped clients tackle a variety of complex health issues, such as substance abuse treatment and prevention, tobacco cessation, obesity, cancer, and other chronic diseases. As part of her work with the National Association for Chronic Disease Directors, Dr. Karavanov works with CDC's Division of Cancer Prevention and Control on the "Bring Your Brave" campaign. She is a Senior Professorial Lecturer at American University in Washington, DC.