By Amy Wu
I recently had the privilege of spending two days at a brainstorming session with a group of doctors, scientists, researchers, advocates and fellow survivors (myself included), all of us a sounding board for the California Breast Cancer Research Program. The goal was to identify and create research projects on breast cancer. One of the key topics of discussion was disparities; the majority of it centered on how to reach out to underserved communities.
While "disparities," is a singular word that is seemingly all encompassing, it is anything but that. It is complex and at times muddy. For example, a dive into examining disparities led to questions over defining underserved communities. Beyond the subgroups of Asian American, African American, Hispanic/Latino, Native American, I asked about extending the communities to men with breast cancer, LGBQT, those in rural communities and acknowledging that there are often significant differences in language and culture within the vast pool of what the U.S. Census defines as a minority. In Los Angeles County alone, there are some 44 Asian ethnic groups including Hmong, Laotians and Bhutanese.
The more pivotal question emerged midway into the lively discussion. Why do underserved communities continue to exist and how can we best reach out to them?
I reflected on my own experience of being diagnosed with aggressive DCIS at age 37, of undergoing lumpectomy and radiation. I seemed to have hit the jackpot. I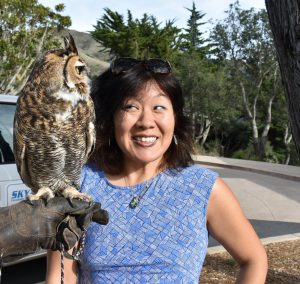 am an American Born Chinese (ABC) survivor, and at the time of my diagnosis I was working in Hong Kong and later I found there was no family history. For a few months and to this day, I was convinced that my doctors had the wrong diagnosis, if not the wrong person. A tremendous gap was the lack of acknowledgement, not to mention discussion, about breast cancer by my family. During much of my cancer journey my relatives in Hong Kong did not utter the word "cancer," and my predicament was regarded as something very technical.
At a family gathering my aunt reminded me that all appointments were scheduled. She was referring to my radiation therapy, while my uncles and cousins commented on the freshness of the vegetables and fish. I later described the experience as very "Truman-show"-like, referring to the 1998 film in which Jim Carrey unknowingly lives in TV reality show set.
As a journalist and advocate, I later thought the solutions of reaching out to underserved communities come down to a paradigm shift. While somewhat monumental, it boils down to something basic—acknowledging that breast cancer exists, that it is a critical health issue to address, allowing a safe place to tell our stories, and encouraging more voices at the table.
Some of the change seems straightforward, such as creating bilingual educational and outreach materials or offering interpretation and multilingual access at major conferences and summits.
Change, however seemingly small, needs to be documented. Four years ago, I attended a Young Survival Coalition Summit and could count the number of visibly Asian women on my fingers. Since then, YSC and other organizations that are focused on breast cancer have made efforts to hold panels addressing the unique challenges of underserved communities and breast cancer survivors of color.
This often spawns lively or thought-provoking questions and discussions. YSC now has a committee devoted solely to diversity. The efforts to include those voices are noticeable. At FORCE's annual conference in San Diego, the seven-person panel at a workshop examining underserved communities included a male breast cancer survivor as well as a transgender male. The discussion was fruitful, spawned many questions, and could have continued long after the event was over.
As a minority woman and specifically a young Asian American survivor, I tap into my own story and believe change begins with asking questions and listening. An idea I've had is that a listening campaign where community organizers, health care providers, advocates and survivors take a cross-country road trip and visit villages, towns and cities to get a better feel of the needs of underserved breast cancer survivors, and the questions and perhaps the frustrations of women in those communities. That information can be used to design outreach from health fairs to public health campaigns that better serves those populations.
This begs the greater question of why reaching out to underserved communities is important. The bottom line is that providing necessary information, prompting questions and encouraging women to tell their stories could be the difference between life and death. I certainly know that because I am one of those women.
Suggestions on Reaching Out:
Provide multilingual materials.
Provide interpretation at summits, conferences and meetings.
Encourage health care providers, community activists, advocates and survivors to go into communities that may be considered underserved and to ask questions and listen to women in those communities.
Encourage survivors in underserved communities to share their stories.