You are not alone. Get support. Whether you have been diagnosed with cancer, just learned about your hereditary cancer risk or have known about it for many years, trained FORCE volunteers are available to offer resources and confidential support.
Triage Cancer Event
Triage Cancer: Educational Event December 3, 2021, 9:30 am - 5:30 pm Eastern Time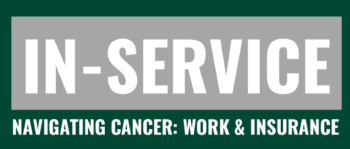 Led by
Monica Bryant, Esq. Rachel Becker, LMSW
Hosted by
Triage Cancer and Cancer & Careers on the Zoom Virtual Platform
RSVP
Additional Information
Triage Cancer and Cancer & Careers are hosting their In-Service Training - Navigating Cancer: Work & Insurance on December 3, 2021 on the virtual platform, Zoom. This FREE in-service for oncology healthcare professionals and advocates provides training on the practical and legal issues individuals diagnosed with cancer and caregivers face when it comes to navigating work and insurance. Speakers include Monica Bryant, Esq., COO of Triage Cancer, and Rachel Becker, LMSW, Senior Director of Programs at Cancer & Careers. This program offers 6 FREE CEUs for nurses and social workers.
GET UPDATES
Stay informed about the latest research, important resources and opportunities to network with others.
Sign up
"FORCE has over 350 volunteers across the country, ensuring no one faces hereditary cancer alone."
Sandy Cohen
FORCE SVP of Volunteer Services
and Previvor