You are not alone. Get support. Whether you have been diagnosed with cancer, just learned about your hereditary cancer risk or have known about it for many years, trained FORCE volunteers are available to offer resources and confidential support.
National Event
Partner Event: 2021 Prevent Cancer Virtual Dialogue: Part III June 2, 2021, 12:30 pm - 4:30 pm Eastern Time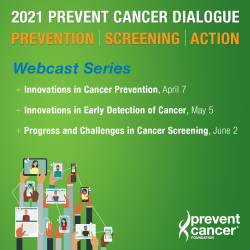 Led by
Adrienne Harkness, Prevent Cancer Foundation
Hosted by
Prevent Cancer Foundation (virtual)
RSVP
To register: https://2021preventcancerdialogue.vc.commpartners.com/
Additional Information
This is the third session of the 2021 Prevent Cancer Virtual Dialogue, a three-part webcast series from the Prevent Cancer Foundation. The theme is "Progress and Challenges in Cancer Screening." The first panel on Genetics and Genomics in Public Health will be moderated by Lisa Schlager of FORCE. Lisa will be joined by: - Heather Hampel, The Ohio State University - Alice Berger, Fred Hutchinson Cancer Research Center - Sancy Leachman, MD, PhD, Oregon Health and Sciences University - Lisa Aspinwall, PhD, Huntsman Cancer Institute For a full agenda, including additional speakers, please visit www.preventcancerdialogue.org
GET UPDATES
Stay informed about the latest research, important resurces and opportunities to network with others.
Sign up
"FORCE has over 350 volunteers across the country, ensuring no one faces hereditary cancer alone."
Sandy Cohen
FORCE SVP of Volunteer Services
and Previvor