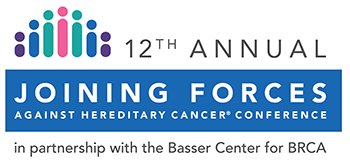 Joining FORCEs Against Hereditary Cancer® is an international conference designed by and for people and families affected by hereditary cancer.
Annual Conference
Whether you are a cancer survivor, person at high risk for cancer, health care provider or caregiver, this conference has something for you.
Registration for this powerful, two-day virtual event is free. Sign up today to reserve your spot!
Register Now!
Conference Agenda
Wednesday, September 29, 2021
Note: all times are in Eastern Standard Time. All sessions will be recorded and available for viewing following the conference.
9:30 to 10 AM
Welcome by Sue Friedman, Executive Director and Founder of FORCE, DVM
10:00-10:30 AM
What are Targeted Therapies and Immunotherapies by Kalyan Banda, MD
10:00-10:30 AM
Cancer Risks, Screening and Prevention for People with Lynch Syndrome by Heather Hampel, CGC
10:00-10:30 AM
Cancer Risks, Screening and Prevention for People with BRCA1 or BRCA2 Mutations by Judy Garber, MD
10:00-10:30 AM
Cancer Risks, Screening and Prevention for People with ATM, CHEK2, PALB2 and Other Genes by Allison Kurian, MD
10:00-10:30 AM
I'm Not White, Can I Still Have a Mutation? by Dena Goldberg, MS, LCGC & Erika Stallings, Esq
10:45-11:30 AM
Hereditary Cancer Genetics, Risk and Management Q & A Panel
with

Judy Garber, MD;

Bryson Katona, MD; and

Heather Hampel, CGC
11:30 AM to 12 PM
Exhibit Hall Break & Networking Sponsored by Basser Center for BRCA
12:00-12:30 PM
What's New in Gynecologic Cancer Treatment? by Kathryn Pennington, MD
12:00-12:30 PM
What's New in Gynecologic Cancer Screening and Prevention? by Barbara Norquist, MD
12:00-12:30 PM
What's New in Breast Cancer Treatment? by Melinda Telli, MD
12:00-12:30 PM
Your Legal Rights by Anya Prince, JD, MPP
12:00-12:30 PM
What's New in Pancreatic Cancer Treatment by Kim Reiss Binder, MD
12:45-1:30 PM
Targeted Therapies and Immunotherapies Q & A Panel with Melinda Telli, MD; Ryan Kahn, MD; and Michael Hall, MD, MS
1:30-2:00 PM
Ask the Surgeon Live Chat by Show & Tell Sponsor Dr. Constance Chen and Resensation Axogen
2:00-2:30 PM
What's New in Colorectal Cancer Treatment? by Michael Hall, MD, MS
2:00-2:30 PM
What's New in Prostate Cancer Treatment? by Heather Cheng, MD, PhD
2:00-2:30 PM
Menopause Management without Hormones by Lisa Larken, MD
2:00-2:30 PM
What's New in Pancreatic Cancer Screening and Prevention? by Bryson Katona, MD
2:00-2:30 PM
Sharing Information with Children by Karen Hurley, PhD
2:00-2:30 PM
Black Men: Overcoming Prostate Cancer Disparities through Screening, Prevention and Genetics by Vabren Watts, PhD; David L. Beckley, PhD; Curtiland Deville, MD
2:45-3:30 PM
Looking Behind the Headlines to Understand Cancer in the News by Kelly Owens, PhD
2:45-3:30 PM
Participating in Clinical Trials for People with Inherited Mutations: Why, When and How by Sue Friedman, DVM
2:45-3:30 PM
Join the #1 FORCE Community - Volunteer, Support or Advocate by Ruth Kucharz; Sandy Cohen; Diane Rose; Rebekah Wells
3:30-4:00 PM
Exhibit Hall Break & Networking Sponsored by AstraZeneca
4:00-4:30 PM
Treatment Side Effects by Jennifer Klemp, PhD
4:00-4:30 PM
Breast Reconstruction Overview by Joshua Levine, MD
4:00-4:30 PM
Sexuality and Intimacy Issues for Men by Andrew Matthew, PhD
4:00-4:30 PM
Sexuality and Intimacy Issues for Women by Sharon Bober, PhD
4:00-4:30 PM
Diet and Nutrition by Doris Piccinin, MS, RD, CDE, LDN
4:45-5:30 PM
Breast Reconstruction Q & A Panel
with

Joshua Levine, MD;

Constance Chen, MD; and

Andrew Salzberg, MD
Thursday, September 30, 2021
10:00-10:30 AM
What's New in Hereditary Cancer? Part 1 by Matthew Yurgelun, MD
10:30-11:00 AM
What's New in Hereditary Cancer? Part 2 by Susan Domchek, MD
11:00-11:30 AM
Exhibit Hall Break & Networking
11:30 AM to 12:00 PM
Early Onset Menopause Management with Hormones by Ann Steiner, MD
11:30 AM to 12:00 PM
Going Flat After Mastectomy by Deanna Attai, MD
11:30 AM to 12:00 PM
Biomarkers and Liquid Biopsies by Bodour Salhia, PhD
11:30 AM to 12:00 PM
Complementary and Integrative Medicine by Diljeet Singh, MD, DrPH
11:30 AM to 12:00 PM
In Our Voices: Asian American Experiences with Genetic Counseling for Hereditary Cancer by Liza Talusan, PhD; Grace Talusan; Mary Talusan Lacanlale; Gayun Chan Smutko, CGC
12:15-1:00 PM
Menopause Q & A Panel
with

Ann Steiner, MD; Susan Domchek, MD; Amna Khan, MD; and

Chrisandra Shufelt, MD
1:00-1:30 PM
Exhibit Hall Break & Networking
1:30-2:00 PM
Fertility and Parenting Issues for Survivors and Previvors by Terri Woodard, MD
1:30-2:00 PM
How Do I Decide? Finding Clarity in Decision-Making by Karen Hurley, PhD
1:30-2:00 PM
What's New in Hereditary Cancer Public Policy by Lisa Schlager
1:30-2:00 PM
What You Should Know about Breast Implants by Liza Wu, MD
1:30-2:00 PM
Bypassing Barriers to Colorectal Screening and Genetic Testing for You and Your Family by John Carethers, MD, MACP
1:30-2:00 PM
TALK BACK: Increasing Patient Engagement in Decision-Making by Vanessa Sheppard, PhD; Alejandra De Mendoza, PhD; Wanda Lucas, MBA
2:15-3:00 PM
Sexuality Q & A Panel
with

Sharon Bober, PhD and

Andrew Matthew, PhD
3:15-4:00 PM
Closing Q & A Panel
with

Susan Domchek, MD;

Matthew Yurgelun, MD;

Karen Hurley, PhD; and

Diljeet Singh, MD, DrPh
Receive the latest
updates from Force
Facing Our Risk of Cancer Empowered
16057 Tampa Palms Blvd. W, PMB #373
Tampa, FL 33647
Get Updates