FORCE is proud to launch our new program, eXamining the Relevance of Articles for Young Survivors (XRAYS).
Funded by the Centers for Disease Control (CDC), the XRAYS program was developed to meet a growing need as more and more medical research articles on breast cancer are making the headlines. With the rise of social media, more consumers are turning to social media outlets to learn about the latest health news. Scientific research is not always easy to understand, and media reports on research can be misleading, exaggerated, or incorrect. In the past, FORCE has published articles correcting media inaccuracies that could confuse consumers and negatively impact medical decision-making.
Understanding research should not be a chore. Much of the research conducted in the United States is funded through taxpayer money, yet the meaning of research findings is often inaccessible to consumers or difficult for them to understand.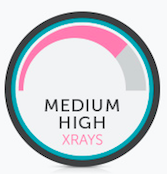 XRAYS will help young women who are concerned about cancer better navigate and understand news in the media. Our team of medical and research experts are busy scanning news reports, studies shared in the media, and articles submitted by our community related to breast cancer. Each week we will select an article, review it, rate it for accuracy and relevance, and publish an XRAYS report in simple language to help you understand the information being shared.
These reviews will be disseminated weekly via our website and social media sites, as well as in our XRAYS Quarterly Digest.
We hope you will read our first review—"Weight gain associated with breast cancer survivorship"—and will come away with a better understanding of what this article truly means for you.
Our XRAYS reviews translate articles and reports on emerging breast cancer research into language that is understandable and accessible to the public, so that those affected by cancer can better understand how new information and research impacts their lives and health care choices; because informed health decisions lead to better outcomes.
Take a look at our first review and sign up to receive our XRAYS Quarterly Digest.