by Lisa Schlager
"Where's FORCE" features an overview of the many places our staff and volunteers have been and the many ways we have spoken out for the community in the past couple of months.
May
"Financial Toxicity" is a term used to describe the impact of health care costs on patients and their families. Improving access to care and lessening the burden of financial toxicity are key issues for the hereditary cancer community we serve. Accordingly, FORCE Vice President of Public Policy Lisa Schlager attended the National Patient Advocate Foundation (NPAF) Policy Consortium Financial Assistance in Health Care Coverage: Challenges and Solutions on May 8 in Washington, DC. Patients, advocates, health care professionals and others came together to discuss the challenges facing individuals and the health care system in providing assistance to people who need it.
The AIMED Alliance hosted an advocacy workshop on "Preserving the Right to Quality Care" on May 16.  With a focus on access to precision medicine and preferred providers, the discussion covered recent legislative and regulatory developments impacting health care coverage and access, commonly used insurance practices that limit access to treatments and services, laws that protect health care consumers, etc. Check out the Know Your Rights Campaign to learn more about strategies insurers use to cut costs and your rights.
FORCE staff and volunteers exhibited at the Oncology Nursing Society (ONS) Annual Congress, May 17-19 in Washington, DC. This annual conference draws 4,000 oncology nurses from around the country. This was the first time our organization has had a presence at a national ONS event. It was an invaluable opportunity to educate the attendees about hereditary cancers and the services FORCE offers.
June
Four staff members attended the annual American Society of Clinical Oncology Annual Meeting (ASCO), June 1-5 in Chicago. They were joined by a few FORCE advocates who received scholarships from the Conquer Cancer Foundation to attend this unparalleled conference. In addition to learning about the latest oncology research, there were numerous meetings and events to attend. Among these was a meeting of the Metastatic Breast Cancer Alliance, where member organizations (including FORCE) learned about the Alliance clinical trials initiatives, epidemiology research, and the new MBC Connect app.
As a member of the Bayer Oncology Patient Advocacy Advisory Council (PAAC), FORCE participated in its annual Advocacy Summit at ASCO on June 5 where three cancer organizations were awarded funding for program proposals in the areas of survivorship, childhood cancers, and use of genetics/genomics to improve clinical outcomes (Note: as a PAAC member, FORCE was not eligible to compete for a funding award). The top prize went to the Cholangiocarcinoma Foundation for its biomarker education program.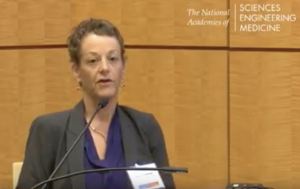 Lisa Schlager attended a "Drug Development in Gynecologic Malignancies Workshop" hosted by the FDA, American Association for Cancer Research (AACR), and Society of Gynecologic Oncology (SGO) on June 14 at the FDA campus in Silver Spring, MD.   FORCE executive director Sue Friedman took part in the National Cancer Institute's Council of Research Advocates meeting on June 21.
The following week, Lisa Schlager attended the National Comprehensive Cancer Network (NCCN) Policy Summit: Policy Strategies for the "New Normal" in Health Care to Ensure Access to High Quality Cancer Care. Sue Friedman presented at the National Academies of Sciences Workshop on Understanding Disparities in Access to Genomic Medicine, on June 26.
We ended the month with an interview with VoiceAmerica's Breast Friends Cancer Support Radio Network on June 27. The show topic was "Cancer and Genetics: What You Need to Know."
In addition to all of these events, dozens of local FORCE support group meetings took place in locations including Austin, Connecticut, Fargo, Palo Alto, Portland, Tallahassee, Salt Lake City, and many more.  Sincere thanks to all of our wonderful, dedicated volunteers who help us make a difference!
Check back for a new "Where's FORCE" update in in a couple of months to learn more about the work we do on behalf of the millions of individuals and families affected by hereditary cancers.