by Lisa Schlager
Throughout the year, FORCE staff and volunteers participate in a variety of conferences, workshops, steering committee meetings, and more on behalf of the hereditary cancer community. This "Where's FORCE" feature covers the early part of 2018.
January
January marked the start of the New Year, and renewed focus on issues that impact our community. It seems apropos that Diane Rose, Vice President of Volunteer Programs, attended the ESCAPE to Thrive Conference for Cancer Advocates in Arizona the first week of the month. Among other things, this unique event features interactive sessions with experts sharing their insights on current and upcoming policies and practices affecting oncology, cancer care, and survivorship. In mid-January, FORCE was busy drafting comments expressing concern about the Center for Medicare and Medicaid Services (CMS) "Proposed Decision Memo for Next Generation Sequencing (NGS) for Medicare Beneficiaries with Advanced Cancer." Tumor testing is becoming standard practice for certain cancers, facilitating targeted treatments and precision medicine. The proposed Medicare policy was drafted in response to the FDA-CMS parallel review process for FoundationOne CDx (F1CDx).  We support a positive coverage determination for FoundationOne CDx but the proposed National Coverage Determination (NCD) goes well beyond coverage of one test. It strives to establish a broad policy for coverage of all NGS-based tests—and could ultimately hinder access.
Executive Director Sue Friedman attended the NRG Oncology Semi-Annual Meeting in Phoenix, AZ. NRG Oncology is funded by the National Cancer Institute. Its mission is to improve the lives of cancer patients by conducting practice-changing clinical and translational research with emphases on gender-specific malignancies including gynecologic, breast, and prostate cancers and on localized or locally advanced cancers of all types. As part of her work on the Cancer Prevention and Control Committee, Sue advocated in strong support of a long-term study to determine if salpingectomy (removal of the fallopian tubes) lowers the risk for ovarian cancer in mutation carriers.
Lisa Schlager, FORCE Vice President of Public Affairs, attended an FDA workshop "Weighing the Evidence: Variant Classification and Interpretation in Precision Oncology"  and the American Society of Clinical Oncology's (ASCO) "State of Cancer Care in America - Precision Medicine: Expanding Opportunities" event, both in the Washington, DC area.
February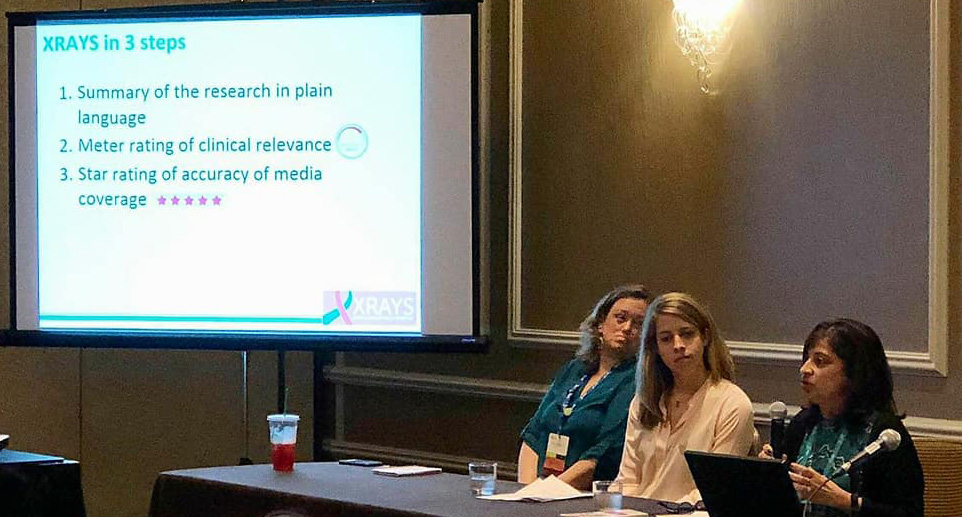 Lisa Schlager participated in an FDA Focus Group on the Expanded Access/Compassionate Use Programs. This meeting was timely given the recent introduction of federal Right-to-Try legislation. FORCE along with many other patient and medical organizations had concerns about the proposed law, which would have removed important patient protections. The bill was ultimately defeated in Congress. Information about this is posted in the Advocacy section of our website. Lisa and two other FORCE representatives took part in an invitation-only BRCA Data Workshop, February 7-8 in Santa Cruz, CA. This event brought together advocates, thought leaders and influencers from throughout the BRCA community and beyond to strategize on approaches to facilitate data-sharing and effective curation of BRCA information at an international level.
The following week, Lisa attended a Cancer Innovation Coalition meeting titled, "Integrating Patient Perspective Into Clinical Pathways." Hosted by the National Patient Advocate Foundation, the event featured a panel discussion with representatives of the Oncology Nursing Society, Flatiron Health, New Century Health, and VIA Oncology. FORCE weighed in on the importance of engaging patients in every facet of clinical research and drug development. The National Patient Advocate Foundation published this article about the meeting. On February 20, Sue Friedman took part in the PCORnet Principal Investigator Retreat to represent the interests of the ABOUT Network and broader hereditary cancer community. Our partner, the Young Survival Coalition hosted its annual YSC Summit, February 23-25 in Orlando, FL. Staff members Medha Sutliff and Baleigh Margol staffed a FORCE exhibit and made a presentation on the FORCE XRAYS program. Lisa attended a meeting of the Metastatic Breast Cancer Alliance (MBCA) Awareness Task Force on February 28.  Topics for discussion included events and other opportunities to raise awareness about metastatic breast cancer as well as a review of feedback on a new registry and app called "MBC Connect."
In addition to all of these national events, 35 local FORCE support group meetings and events took place in locations including Ann Arbor, Austin, DC, Harrisburg, Houston, Louisville, Minnesota, New Mexico, New York, Palo Alto, Reading, and many more.
Check back for a new "Where's FORCE" update in in a couple of months to learn more about the work we do on behalf of the millions of individuals and families affected by hereditary cancers.