by Clarissa Foster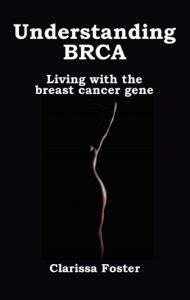 Three years ago, at the age of 35, I was found to carry a harmful mutation in the BRCA2 gene. I decided to undergo removal of both ovaries and tubes (known as a salpingo-oophorectomy) and a risk-reducing mastectomy to lower my risk of developing cancer. When it was established that I was carrying a BRCA2 gene mutation, I searched for a book that would help me to understand the full extent of what it meant, the options available to me to lower my risk of cancer and, most importantly, for a publication which gave a very detailed and honest account of how it would feel to undergo these surgeries. However, none of the books available seemed to offer what I needed. Therefore, I made the decision that once I had come through my own journey, I would write a book with the aim of helping others.
In my book, Understanding BRCA, I begin by sharing with the reader my journey of losing my mother to ovarian cancer as a result of her carrying a harmful BRCA2 mutation. This section provides an example of the devastating effect these mutations can have on people's lives and adds an insight into why women with these mutations would go to such drastic lengths of risk-reducing surgery to reduce their risk of cancer. The second section aims to improve the reader's understanding of the BRCA gene, the biology of genetics and what it means if an individual carries a harmful mutation. The book also explores the options available to BRCA mutation carriers to help manage these mutations, including enhanced screening, risk-reducing surgery and chemoprevention (the use of drugs to lower their risk of developing cancer), with reference to extensive research. The final part of this book shares my personal journey of undergoing both risk-reducing surgeries to reduce my risk of developing cancer. I have detailed very openly and honestly my emotions throughout my own journey, along with the physical experience of undergoing these surgeries and the surgically-induced menopause which follows. I have also shared the effect, if any, that these operations have had on my body image, identity and sexual functioning.
I have also set up a website and a Facebook support group to offer my support to women (and men) worldwide. If you have been found to carry a BRCA gene mutation, or fear you may be at high risk of breast and ovarian cancer, please visit www.understandingbrca.co.uk and I will be happy to support wherever possible.
Related FORCE Information
Confronting Hereditary Breast and Ovarian Cancer by Sue Friedman, DVM, Rebecca Sutphen, MD and Kathy Steligo
FORCE Information: Hereditary Cancer and Genetics
FORCE Peer Navigation Program (one-to-one support)