by Piri Welcsh, PhD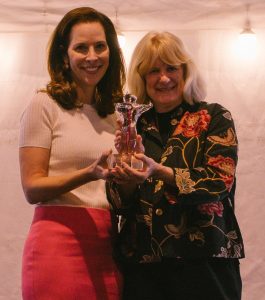 "PARP inhibitor therapy, I think it's fair to say, very likely would not be part of our armamentarium now had it not been for FORCE."
These were the words of Mary-Claire King, PhD as she accepted her 2018 FORCE Spirit of Empowerment award. "Armamentarium," I confess, was a word I had to look up. It means "a collection of resources available or utilized for an undertaking or field of activity; especially: the equipment, methods, and pharmaceuticals used in medicine (Merriam-Webster)."
PARP inhibitors featured prominently in many of the talks at our conference. It's no surprise, given the important developments involving PARP inhibitors in the last two weeks. Our speakers' enthusiasm for PARP inhibitor research was palpable. Below is a recap of these new developments.
Breast Cancer: FDA Approves New PARP Inhibitor
At the end of last year, I shared highlights from the 2017 San Antonio Breast Cancer Symposium (SABCS).
One of the most exciting sessions was the reporting of the results of the EMBRACA trial. This trial was designed to test talazoparib (Talzenna), a PARP inhibitor, against physician's choice of chemotherapy for patients with advanced breast cancer who have inherited a BRCA1 or BRCA2 mutation. Talzenna—a pill taken once daily—was shown to extend progression-free survival (PFS) by 3 months and improve quality of life.
Based on the results of the EMBRACA trial, earlier this month the Food and Drug Administration (FDA) approved Talzenna to treat patients who have HER2-negative locally advanced or metastatic breast cancer.
Talzenna is the second PARP inhibitor to receive approval for the treatment of metastatic or advanced breast cancer in people with a BRCA1 or BRCA2 mutation. It follows the approval of Lynparza (olaparib) in January. The FDA also approved the companion diagnostic test, BRACAnalysis CDx. This blood test looks for inherited mutations in BRCA1 and BRCA2 to help patients and their doctors decide if a PARP inhibitor is right for them.
Ovarian Cancer: News from the European Society of Medical Oncology (ESMO) – SOLO1 Results
SOLO-1, is a trial evaluating the use of Lynparza (olaparib) as a maintenance therapy following platinum-based chemotherapy in newly diagnosed ovarian cancer patients who have inherited a BRCA1 or BRCA2 mutation. Only days ago at the European Society for Medical Oncology (ESMO) annual conference, some of the results of the ongoing SOLO-1 trial were reported. Results presented showed that patients who used Lynparza (AstraZeneca and Merck & Co) as a maintenance therapy immediately following chemotherapy had three additional years of progression-free survival (PFS) compared to placebo.
While SOLO-1 PFS data is still being collected, these preliminary results are nevertheless practice-changing. "While it is too early to say whether we have impacted the fraction of women who could be cured with their front-line therapy, the fact that it is estimated that over 50% of women on the olaparib arm were still progression free at four years as compared to only 11% for placebo speaks to this hope," said SOLO-1 co-principal investigator Kathleen Moore of the University of Oklahoma while presenting these results at ESMO.
Currently, there are 3 FDA-approved PARP inhibitors for treatment of patients with ovarian cancer: Zejula (niraparib), Lynparza, and Rubraca (rucaparib). Lynparza or Zejula may be used as maintenance therapy for women with ovarian cancer who have received 2 or more lines of chemotherapy who had either a complete or partial response to the most recent line of recurrence therapy. Rucaparib may be used as a maintenance therapy for women with recurrent epithelial ovarian, fallopian tube or primary peritoneal cancer who are in complete or partial response to platinum-based chemotherapy.
For many patients, PARP inhibitors when used as indicated are successful and lead to No Evident Disease (NED). Unfortunately, for too many women their ovarian cancer will eventually return. Thus, new approaches to keeping patients in remission are desperately needed. Hopefully, these new SOLO-1 results will lead to rapid FDA approval of Lynparza as a first-line maintenance therapy for ovarian cancer patients.
Prostate Cancer: More News from ESMO
Data from the TRITON2 trial was also reported at ESMO. TRITON2 is looking at the effects of treating men with an inherited BRCA1 or BRCA2 mutation and metastatic castration-resistant prostate cancer, who have received at least one prior androgen receptor therapy and taxane-based chemotherapy with the PARP inhibitor Rubraca.
Among the 25 men in this study, Rubraca (Clovis Oncology) shrank tumors in 11 (44%) paticipants. Results also showed that Rubraca reduced PSA levels — a biomarker of prostate cancer — in 13 (52%) participants. This study is the first to show that a PARP drug has benefit for metastic prostate cancer patients with a BRCA1 or BRCA2 mutation. Rubraca has breakthrough designation from the FDA for prostate cancer. Clovis Oncology has said it hopes to be in a position to file for approval for Rubraca for BRCA1 and BRCA2 metastatic prostate cancer patients in the latter half of 2019.
FORCE and PARP Inhibitor Research
FORCE is proud of the role we played to help enroll patients into EMBRACA, SOLO1, and TRITON2 to assure that the trials completed. Since 2006, FORCE has championed research on these targeted therapies designed to treat cancers in people with a BRCA mutation. FORCE has continued to educate our community about these new therapies, by:
spreading awareness about the research
encouraging people to enroll in PARP inhibitor clinical trials
sharing the results of completed studies
educating people about new FDA approvals and guideline changes
Visit our Featured Research Page and Research Study Search Tool to find PARP inhibitor and other studies enrolling people affected by hereditary cancer.