By Marcy Rubic, VP of Leadership Gifts
What are you thankful for this season?  At FORCE, we are thankful for our generous supporters. Because of YOUR dedication and support, FORCE helps tens of thousands of families affected by hereditary cancer each year and makes lifesaving resources available to so many more.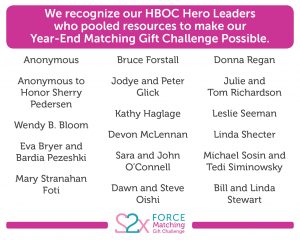 Every person who is part of the FORCE family is a hero. This year, we put out a call to action to a group of supporters, asking them to come together with generous donations so that we could create the HBOC Heroes Matching Gift Challenge.  FORCE will use these funds to challenge people nationwide to make a gift that matches or surpasses the generosity of our lead donors.
This group of leaders went above and beyond our original request, pledging up to $65,000 to match every donation received between now and December 31, 2018.  I would like to share a bit about three of these leadership donors.
Wendy B. Bloom, who lives in South Carolina, is one of our supporters who pledged to match the donations of others.  "FORCE provides information and research to help the HBOC community make scientific, fact-based decisions," says Wendy.  "The Hero Challenge will double the power of your donation and create twice the impact for FORCE!"  Wendy is a volunteer and has been a FORCE supporter since 2015.
Another lead donor is Linda Shecter, who lives in Nashville, Tennessee.  Linda is a cancer survivor and says, "I wholeheartedly support the very important, vital work being done through FORCE. We have the next generation to consider."  Linda made her first gift to FORCE in 2006 and has been a dedicated supporter ever since.
HBOC Heroes Dawn and Steve Oishi of Alameda, California want to help raise awareness, education and funding.  Dawn, who has the BRCA1 gene mutation, says, "I am fortunate I have choices with the genetic mutation that I inherited.  We would like to support those who are facing dilemmas and decisions regarding genetic mutations.  We have choices today. We want to thank FORCE for bringing so much light into the world with their network of valuable resources."
Personally, I am honored to be a member of the FORCE family.  I am a newcomer to the FORCE staff, just past the one-year mark.  Attending the Joining FORCEs Conference was truly a transformative experience.  Coming face-to-face with the people we serve, as well as our volunteers, donors, sponsors and clinical collaborators was a special experience.  At every turn, one gets a sense of how the learning and togetherness makes a difference in peoples' lives.  I'm grateful to be a small part of this wonderful work.
FORCE is a special organization, and each and every person who is part of it is special.  Thank you again to our HBOC Hero lead donors and to every member of the FORCE Family.
Marcy Rubic, MA, CFRE, joined FORCE in 2017. She has 22 years of experience in healthcare philanthropy.  Before joining FORCE, she served as the Executive Director for two hospital foundations and worked for JDRF and the Crohn's and Colitis Foundation.  Marcy and her husband, Mark, have two sons in college and split time between Denver and Chicago.