The squeaky wheel gets the grease. We have heard that saying so many times it has probably lost its true meaning. "Breast cancer awareness" and "ovarian cancer awareness" are terms that also can lose meaning over time. What does awareness mean? Does it really help in any way? Can awareness change behaviors? Can it save lives?
Most people are aware of cancer. They know it exists. They know someone who has been touched by it. By contrast, most people are not aware of hereditary cancer, even when it runs in their own family. Some may have heard of it, but the key facts may escape them. When I was diagnosed with breast cancer at age 33, I had a medical background, and I understood that diseases could have hereditary components. But I didn't associate my own diagnosis and my paternal grandmother's young demise from abdominal cancer with a genetic predisposition to cancer. I was unaware of genetic counseling and testing until I read a magazine article about HBOC. From the information in the article I recognized that I had several of the indications for a hereditary syndrome. My health care team never realized I fit the criteria for BRCA testing. It was the dawning media awareness about HBOC that helped me learn about my own BRCA 2 mutation. Since founding FORCE I have heard from countless other women that reading a FORCE brochure or an article about one of our members helped them make the connection between what was going on in their family or understand how genetic counseling may be relevant to their situation. Taking it one step further, many of these same women indicated that surgery found breast or fallopian tube changes that likely would have led to cancer. We know from research that risk management options can increase the life span of high-risk women.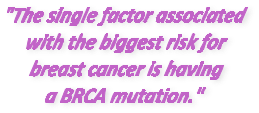 So when we talk about awareness of HBOC saving lives, it is not an abstract concept. This year thanks to your support and efforts, we reached more people than ever during HBOC Week. We had more media attention. Our outreach groups had more events. Our website traffic increased by 26%. Our newsletter mailing list grew by 14%. Attention among government agencies and researchers leads to more focused efforts to address the disproportionate cancer burden our families face. These tangible successes equal lives saved for members of our community.
Here is my top five list of reasons why HBOC awareness is important:
The single factor associated with the biggest risk for breast cancer is having a BRCA mutation.
Most people who are very high risk for cancer are unaware of their risks.
Cancer screening and prevention recommendations for average risk people are inadequate for those with hereditary cancer risk.
The more people hear about HBOC, the more likely they are to explore their family medical history and seek out genetics professionals.
Identifying and preventing cancer in high-risk people has been shown to save lives.
Five things you can do to sustain awareness:
Let's continue to drive awareness and increase our momentum. We need more successes like this. Share this blog and lets make the next 12 months HBOC year!