by Stacey Sager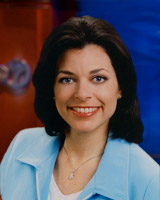 They say lightning doesn't strike twice. Well, any of us who test positive for a BRCA1 or BRCA2 mutation certainly know it can. With the risk for both breast and ovarian cancer so incredibly high in our lifetimes, and with more and more aggressive surveillance, I do believe doctors are learning more as the years go by.
Unfortunately, medical trials haven't moved far enough to offer us the options we so badly want for our daughters—less invasive surgery or the best case scenario: a pill to prevent cancer.
I've learned a lot these past few months about "being BRCA," as I call it. Some of you may have seen my stories on WABC-TV in New York on how I battled breast cancer with a double mastectomy 13 years ago, and how only recently, I decided to go in for genetic testing after I gave birth to both of my children.
I learned I have a BRCA1 mutation, and after going in for risk-reducing surgery to remove my fallopian tubes and ovaries, doctors discovered a pre-invasive cancer in the lining of my fallopian tubes. This prompted even more surgery—the removal of lymph nodes, my uterus, abdominal tissue, and cervix. My doctors saved my life. Genetic testing saved my life. I am so grateful for that.
But what is truly significant about cases like mine, where doctors find pre-invasive cancer in the fallopian tubes at the time of prophylactic surgery, is the potential impact on the future of screening and treatment for women who have BRCA mutations. Scientists theorize that many of these hereditary ovarian cancers may actually start in the fallopian tubes. This has led to the development of a research study where doctors will use a small scope to examine the fallopian tubes. The study—which is not yet open--will initially look only at women undergoing risk-reducing surgery. But if it's successful, someday it may be feasible to screen for cancer by looking at our fallopian tubes. Better screening could eventually allow us to safely keep our ovaries longer. Now wouldn't that be something???
Some of you may already know that right now, there are trials going on in which researchers in France and Canada are looking at whether the removal of the fallopian tubes might lower the risk for gynecologic cancers. FORCE has been working with researchers to open salpingectomy trials in the United States. The significance? If, God forbid, our daughters have this mutation and need risk-reducing surgery, perhaps they can prevent early menopause just by having their fallopian tubes removed and wait until after menopause to remove their ovaries.
Preimplantation Genetic Diagnosis (PGD) now allows parents pursuing in vitro fertilization (IVF) to selectively implant embryos that don't have BRCA mutations. I'm unsure how I feel about this, but some young women with mutations have pursued this technology to break the cycle of cancer in their family.
The progress being made in genetics is exciting. Research on PARP inhibitors, new targeted therapy that may work most effectively on hereditary cancers, intrigues me. Doctors also assure me that the silver lining for those of us who have these mutations is that our cancers are more easily explained. Doctors can predict them. And that improves detection, prevention and treatment.
Life is full of risks. The difference for those with BRCA mutations or other inherited mutations is that we are born with our exceptional risk. We had no choice or say in this  and have limited choices on how to mitigate these risks. But I believe that keeping this discussion alive will allow research to move forward.  Our lives and the lives of our  daughters, DEPEND on it!
Reporter Stacey Sager wrote the following guest blog. Many FORCE members followed her personal and moving story in the recent video that aired on WABC-TV in New York City.