by Lisa Schlager
Genetic testing is an increasingly important and complex service that can inform medical decisions and improve health outcomes. National standard-of-care guidelines recommend genetic counseling with a qualified expert before and after genetic testing. FORCE agrees that talking to a healthcare professional who has expertise in cancer genetics before and after genetic testing is important. This helps assure that:
the right test is performed (many are available) at a reliable, high-quality lab;
results are interpreted correctly; and,
information provided about the meaning of the results and the appropriate medical options is accurate.
Genetic counselors serve a crucial role in the genetic testing process. They have advanced training in medical genetics and counseling to interpret genetic test results and to guide and support patients who are affected by cancer, their families and their healthcare teams. Genetic counselors help people learn whether their condition is hereditary and to make medical decisions that are right for them. Consulting with a genetics expert can alleviate much of the uncertainty that accompanies testing for a mutation that is associated with increased risk of disease.
Despite the importance of genetic counseling, genetic counselors are not approved Medicare practitioners, and they are unable to bill Medicare for their services. They must work with a medical doctor who bills Medicare on their behalf to obtain reimbursement for their services. This limits access to these highly trained providers, especially in areas of the country where genetics experts are scarce. It also sets an undesirable precedent, because many private health plans and state Medicaid programs look to Medicare for guidance on what health services to cover. Proposed federal legislation, the "Access to Genetic Counselor Services Act" (H.R. 3235), aims to remedy this issue.
Genetic test fraud has become more prevalent in recent years, with Medicare bearing the brunt of the problem due to billing scams. We need to find ways to curb inappropriate testing and to expand access to highly qualified professionals. H.R. 3235 defines genetic counselors as those with state licensure; for states without licensure, Health and Human Services will set criteria through regulation (likely certification from the American Board of Genetic Counseling). This will reduce the risk of genetic test fraud, and improve safety and access through coverage of genetic counselors.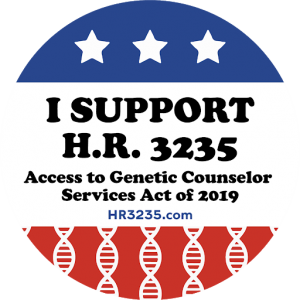 We strongly support the "Access to Genetic Counselor Services Act." Please join FORCE and the National Society of Genetic Counselors to support coverage of genetic counseling for Medicare beneficiaries and expanded access to genetic counseling services for all Americans.
Click here to contact your member of Congress and urge their support of this important bill!